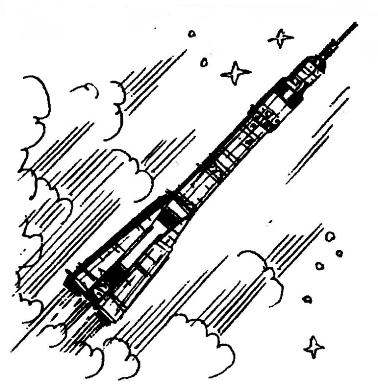 April 23, 1968 carrier rocket 11А511 was launched into orbit a new spacecraft 7K-OK, called the "Union". The ship was piloted by pilot-cosmonaut, hero of the Soviet Union Vladimir Komarov. During the flight revealed a lot of failures due to the imperfections of design, what was the reason for the reduction program. On April 24th, during the descent from orbit, the crash occurred — refused recovery system of the lander. He was broken from hitting the ground, and an astronaut, unfortunately, died. It was the first victim of manned spaceflight.
So began the tragic fate of the new spacecraft.
In the further hard work of developers and testers spacecraft and its booster has improved and was brought to a high degree of reliability. Created a new modification of the spacecraft is a "Union T" and "Soyuz TM" and missiles-wear-for them— "Soyuz" and "Soyuz-2". They were intended for manned flight programs long-term orbital stations "Salyut" and "Mir" and the Soviet-American program "Soyuz-Apollo", which was the first flight of the international crew. Currently, the spacecraft and the launch vehicle are designed to provide the international space station.
The proposed drawings of the carrier rocket "Soyuz-2", which may 18, 1991 launched into orbit the spacecraft "Soyuz TM-12", flying to the space station "Mir". Part of the international crew consisted of two cosmonauts of the USSR Anatoly Arcebarsky Sergei Krikalev and Helen Sharman English. This rocket served as Alexander Left the prototype for the creation in the laboratory of rocket and space modeling of the Moscow city Palace of children's (youthful) creativity of her models up and helped him to become the champion of Russia, Europe and the world.