On any country site, especially if it is located near the forest, have a special sense of closeness to nature. And perhaps that's why it is very natural and aesthetically pleasing looks all made of wood from a picket fence and a modest shed to a delicate tracery gazebo or log bathhouse.
Especially decorate the grounds with ornamental structures made of thin trunks and poles, which are many in the "wastes" of the forest. Preferably not very old fallen trees and dead wood, and do not have uprightness — curved looks more natural.
Collected the trunks and branches should be cleaned of bark and small twigs, give them to dry. Further processing depends on what you plan to make.
Here are a few examples proposed by the Hungarian magazine "Earmaster".
The simplest such construction — the entrance arch over the gate or gates. In figures 3 and 4 show two variants of their design. The first and most practical — without any frills: two racks, two rails with spacers from scraps of the barrel, two brace. Their connection methods are also applicable to other structures, shown in figure 5.
The second arch is more decorative, but also quite simple to manufacture. It is based on four uprights with cross-members: on the sides of the cross are full of sticks, forming diamond patterns. Top from one stand to another is spanned by two rungs made of poles with multiple cross members; to the bottom rungs of the rack are supporting strut from poles.
In the summer of both arches can be decorated with climbing plants such as hops, wild grapes or popular, heavily blooming clematis.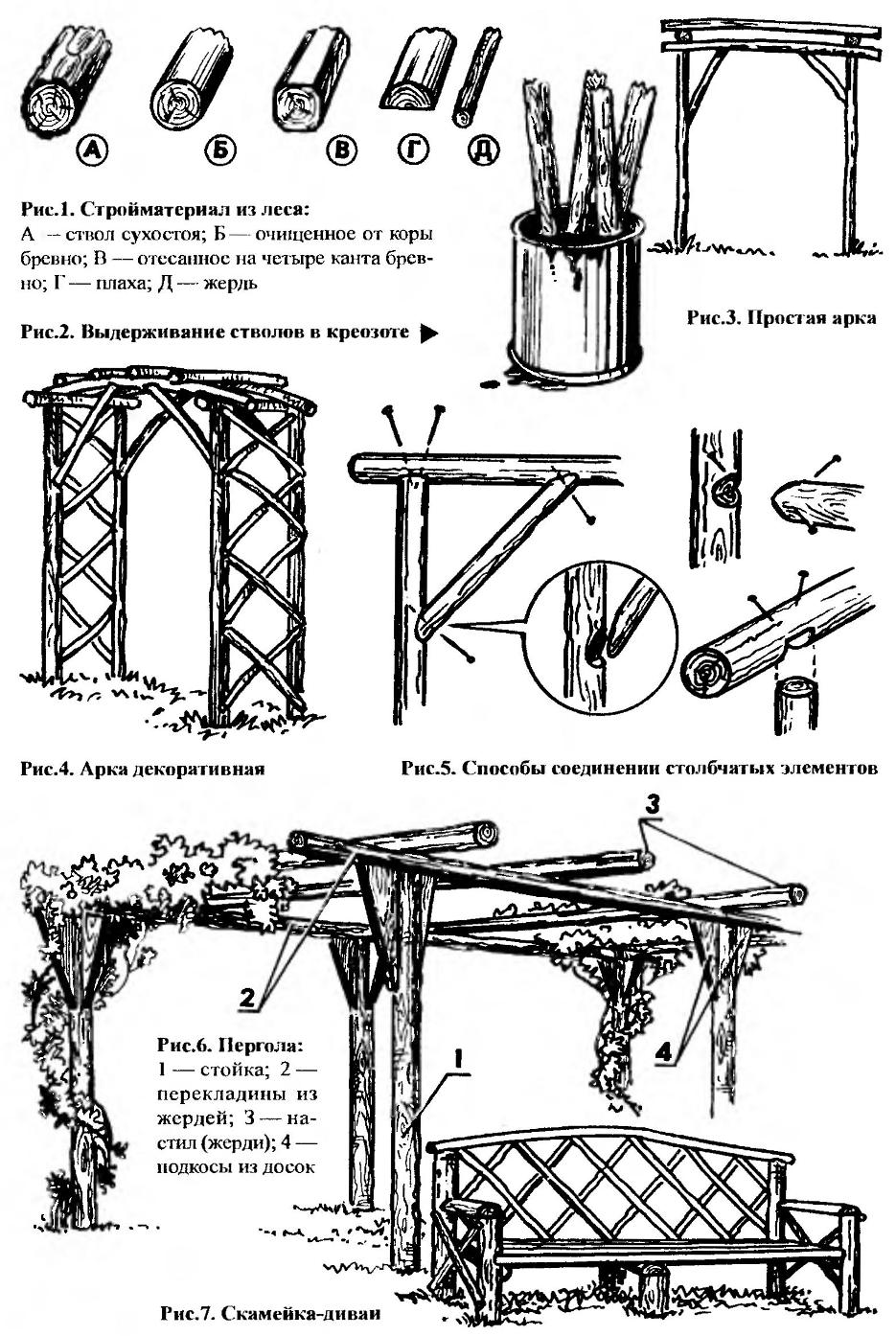 Under these plants, able to create a delicate shade, you can build a small pergola to create a green area. It is somewhat columnar uprights which are connected from above to the longitudinal rails from poles with wooden struts. Across fit rare deck (also made of poles), forming a sort of roof. If necessary, between the racks and the ceiling, you can pull the synthetic cords or wire for greater reliance winding plants, forming a beautiful green canopy.
Under the shade of this pergola looks good and bench-sofa, assembled from poles. Its sidewall formed of little columns, in front of which rely on the armrests of the timbers, and the back is connected by two crossbars with full of them bars out of short sticks. Seat benches form a pole, tightly laid on two cross member between the front and rear uprights; the middle of the seat prevents sagging additional cross member of the scaffold, based on two short columns.
Such structures were long, they should be treated for wood preservation (such as "Senezh"), and buried in the ground part to withstand the creosote to burn or cover with bitumen.
Recommend to read
BETTER THAN HOOKS
If you rode into a new apartment and have not had time to nail in the bathroom hooks for towels, don't rush. That you will always have time to do. It is much easier and looks prettier...
STAND FOR DRILL
If the drill breaks in the work is placed on the table or on the floor, I don't like, but still tolerable. But if on the ground, but still raw? So I had the idea to make a stand-"the...