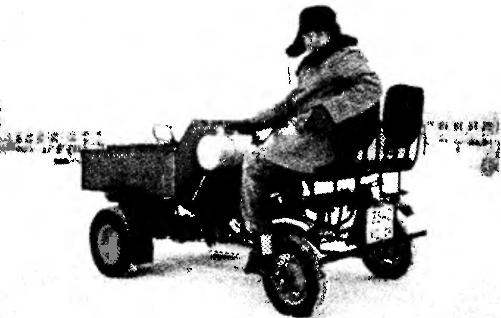 First of all, I thank the editor of "Model construction" for the promotion of ingenuity, intelligence and talent of ordinary people, for the opportunity to use his rich creative experience, focused in the magazine. Keep up the good work!
For my part, I would like to offer our readers a description of the very practical mini-truck. Practical in the sense that it is simple in structure, easy to operate and inexpensive to operate.
This is a simple vehicle designed for transportation of various cargoes and one passenger. I have long had plans of creating such a mini-truck — in the home he just needs. And when in my hands on occasion got a used motor scooter Muravey, its main components and parts has decided to base its four-wheeled cars, as against more stable tricycle. With minor revision, these components and parts (thanks to Tula engineering for the quality of their products!) allowed us to design inexpensive to manufacture and reliable in operation.
The truck, named "Pathfinder", it's "Ant", converted body forward. Externally it somewhat resembles a self-propelled chassis T-16. But in contrast, has the front drive wheels. Select the layout of self-propelled chassis due to the following reasons: rear drive wheels "Ant", becoming from the front of the truck, increase its maneuverability, and front steer, becoming rear — maneuverability. This gives you a definite advantage when driving off-road or on the close economic court.