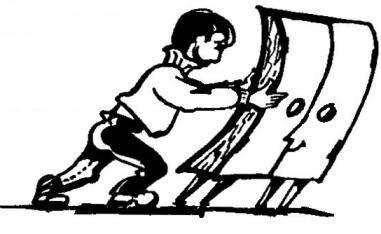 To Express themselves easier. I have to move home furniture. Where will my wife say, women love such innovations. That's just the strength may not be enough, especially if you do not unload a Cabinet, sideboard and so forth. But there is a solution. Think about
the lever and its wonderful property to develop a large force on the short arm with a small force and a large displacement at long.
As leverage to take strong, without cracks and knots of a piece of oak, maple, birch, cross-section 40×40 or 50×50 mm, length 1200-1500 mm or pole of the same materials and same dimensions. And even better — cut the water pipes or scrap — they are unlike wood will not break under load, if just bend down.
The original part is an bearing of the lever on the floor. It is necessary for the Board thickness not less than 25 and a width of 200-300 mm and a length of about 1000 mm. Or you can take
a sheet of chipboard a little wider, 20 mm thick, veneered better. Edge nailed with nails or screws prevernal scrap boards thickness of 40-50 mm with two notches, as it is shown in the figure. On the bottom facing the floor of the anvil naleem two sheets of corrugated rubber. It remains to put under the legs, or just under the corners of furniture pieces plywood or other thin trim boards with rounded edges, and under them, on a half — strip of dry fabric. Lift corners of furniture for podkladyvanie can our lever on its support.