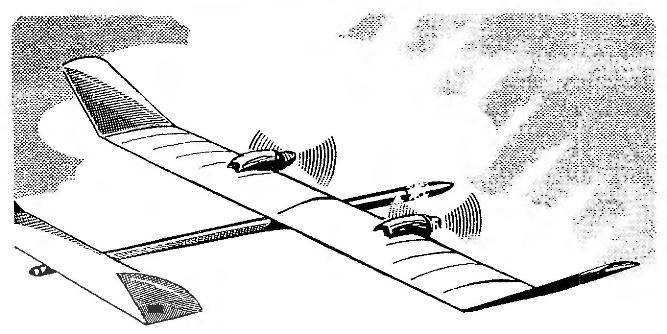 Electrics have had a steady popularity among modelers, but she sometimes wears some kind of theoretical. It seems that many believe the making of "trains" is inconceivable without supernatural and superaccumulation. Meanwhile, a relatively simple Svobodnaya electrics with the most common DC motors-5-19 and is powered by standard AA batteries or rechargeable batteries can be done in any model circle or even at home.
Proposed drawings and description of a simple elektroleta, which is a twin-engine high-wing monoplane with a wing of large aspect ratio and the square twin fins and cone beam-fuselage. The model differs little from gliders by weight, geometrical and aerodynamic parameters and is able to make a long motor and gliding flights.
WING elektroleta — stacked design with a covering of Mylar film. Consists of center section and a pair of "ears"consoles. Going on the Board-stocks, on which is fixed is made in 1:1 scale drawing of the planned projection of the wing. After this, the stocks is delayed with plastic wrap so that it is not stuck to a set of the wing when you build it.