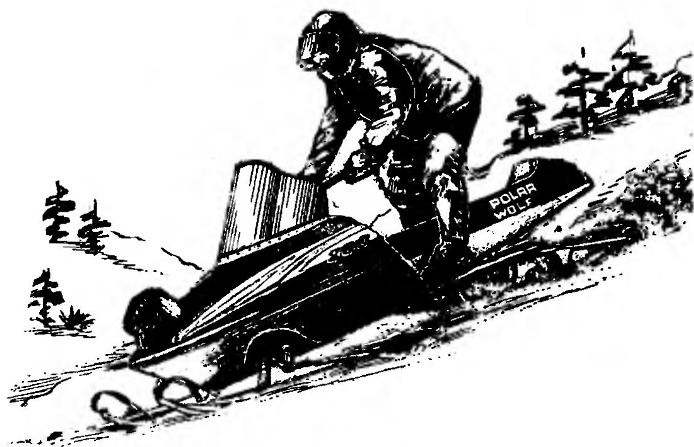 In recent years, Amateur designers snowmobiles somehow forgotten about the ski-tracked vehicle whose design is thoroughly worked out by dozens of manufacturers in hundreds of models, and prefer a more simple and universal to all-terrain vehicles on low pressure tires. However, from time to time enthusiasts snowmobile equipment design and classic motonarty, creating a simple and functional design. A typical example is the ski-track snowmobile "Polar wolf", designed by Igor Galkin.
"Polar wolf" is a tricycle (front — pair of skis, back — track) a vehicle designed to travel over snow at speeds up to 60 km/h.
Mover "Arctic wolf" is a rubber caterpillar, taken from the conveyor belt width-
Noi 300 mm, connected in a ring to make the hinges. On the outer surface of the caterpillar mounted lugs of duralumin channels, but on the inside — a special bracket, which allows sea stars to bring a caterpillar in motion.
Bracket with the letter "P,""S carvings on the legs, bend from 6 mm steel rod. For their production will need a device that allows you to do them quickly and, most importantly, strictly identical. For marking the holes in the track under the bracket you need to use conductor — dural plate with drilled in it pairs of holes with a diameter of 6.1 mm. the Number of such pairs shall be not less than twenty. The finished conductor is superimposed on the rubber tape fixed with suitable goods, and then with a punch (a sharpened and hardened steel tubing) in rubber stitched holes. Further, the conductor rearranged the extreme pairs of holes in the ribbon, and the combined conductor and the conductor is fixed therein by a pair of bolts and nuts, after which the operation of the firmware of the holes is repeated. Stapling on the ribbon — with the help of bolts and nuts with washers. After tightening the nuts to counter the slight raskladyvanii speaker of the threaded rod.