Measure the bore diameter or roller to determine the size of the gap with an accuracy of 0.1 mm it is possible not only with the help of micrometer, Vernier caliper or feeler gauge. Each of the offered here for measuring instruments easy to make at home in just one hour.
The first tool in this series — to determine the diameter of the hole. It is a flat triangular wedge with the ratio of the height and the base it forms an equilateral triangle of 10:1. It is best to cut it out of a metal ruler or a square, but you can put millimetric divisions ka any record. How to use this device, it is clear from figure 1.
On the same principle based tool to determine the external dimensions (Fig. 2). It will provide you with the same precision as the caliper.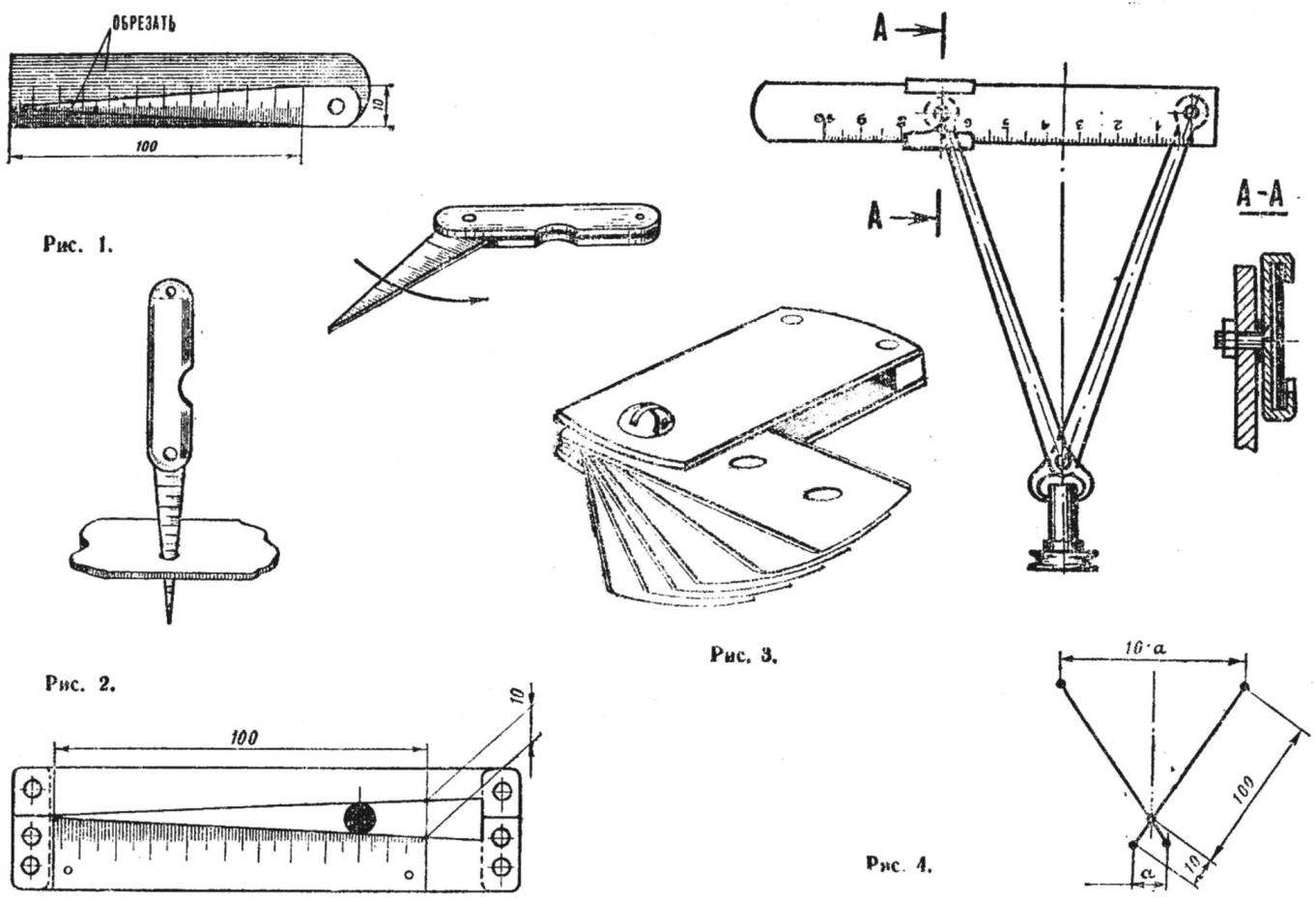 Well, if you need to know the exact size of the gap between the two parts, make the device shown in figure 3. That's two dozen blunted on the fine emery blades safety razors stacked. The thickness of each known or 0.08, or 0.1 mm.
And the last measuring calipers (Fig. 4). Externally, the device resembles a wire cutter: the same short sponges and long handle. The ratio of short and long shoulder 1:10. Metal ruler with a millimeter scale will automatically change the scale at ten times — each division is equal to 0.1 mm.
Recommend to read
DRILL-SHOTGUN
Once instructed the boys to handle on turning the glasses of the part having a stepped hole. The hole is cut, usually in two stages: first inserted into the rear Babin smaller drill bit...
TSENTROISKATEL
Before there was the drawing tool for finding center of round parts. My version of such a device — shaped ruler, cut from steel plate with a thickness of 2-3 mm. hole is punched on...