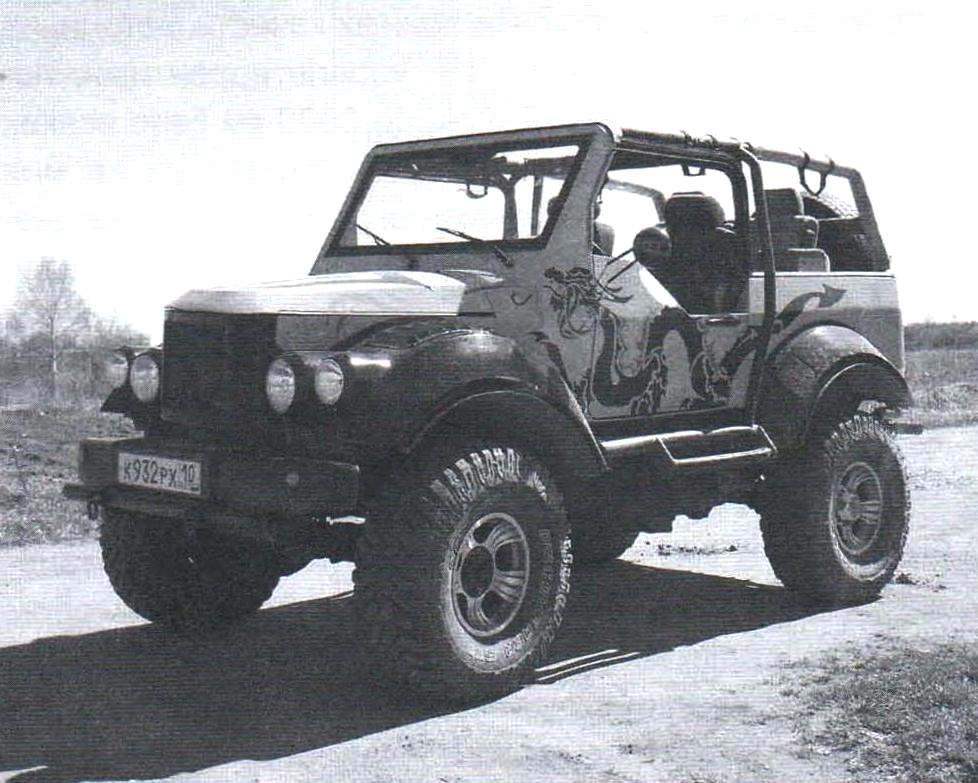 The idea of building a jeep because we like an active holiday. The basis was taken of the legendary Soviet car UAZ-69. Since it was planned to overcome the car is not only cool roads, but long distances, over "UAZ" had to work hard. At first it was disassembled "to the last bolt" and reviewed.
The engine put "volgovskoe" – ZMZ-402 with capacity of 100 HP with the carburetor "Solex". Generator 100 And used from an AUDI, the steering is from the "Ford-Transit" (it was later delivered from BMW, the cooling fan from the GAZ-3110, box changes gear from GAZ-3102, wheels – Cooper discovery oil coolers Plaza – UAZ-469.
All these innovations are "pulled" for a significant rework of the body, rather the body had to make a new floor from 2 mm steel sheet, the rest of the 1.5-mm Doors, including the back, widened it, setting them on monopile. Torpedo, tunnel, wiring, the "stove" front seats from AUDI , the rear – from the "Pajero".
The windshield was made to order glued. Tent Oxford cloth, insulated from the inside. Safety frame — tube diameter of 50 mm pipes covered with leatherette. Fuel tank has one but 80 l.
Made good audiopodgotovka, set the subwoofer bass reflex.
The construction of the car is finished in December 2000, all changes made to PTS.
Yu MÄKI, Olonets, Karelia
Recommend to read
SYRINGE FOR… PRINTED CIRCUIT BOARDS
I want to share my method of drawing on the PCB. Take a disposable syringe. After removing the needle, its internal cavity is filled with colored lacquer. And vypusnogo hole with little...
LITTLE MICRO-CAR "CRAB"
Not for them the track of the reps! Your creative impulse they send, for example for roads technical search. Only what no one else did, and the only way never done before! It is no...