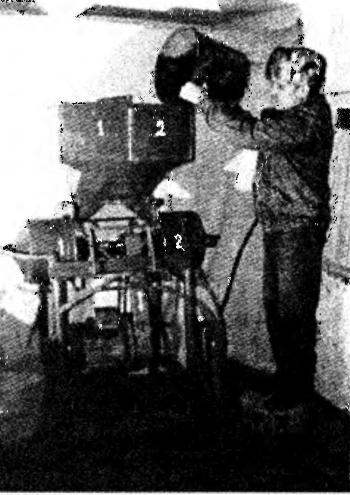 echnology the manufacture of major components of the mill are quite simple. From thick-walled pipe 60×10 mm should be cut on the machine supporting sleeve and "grab" it to gas or electric to advance cut a circle out of smooth steel sheet with a thickness of about 10 mm. Then, while holding the "oven MITT" in the Chuck of the lathe, the handle to the required size billet cap so that the socket diameter 332 mm coincided with the sizes of available drum. Likewise be made and a second drive.
Required to move the centers of the holes of the drum under the M12 bolts on the wheels, which will become the rear walls of the crushing chambers, and drill with a diameter of 12.4 mm all holes except one, the top.
You should secure the bolts,including those that must pass through the corresponding holes in the frame of the crushing site. To perform the struts, drilled the mounting holes and connecting the main ones bolts.
When on the reels all is done and fine tuned, it's time to use the guides and pins, then when disassembly and Assembly of connecting sizes will be strictly maintained. Guides are included to a depth of about 10 mm and are welded by welding to the corners.
Continue to produce guides for the damper and the fastening openings. Framing funnel — halves of the 8-mm steel sheet. From the side of the valve is milled under the groove 2,5×2,2 mm. After fixing the framing to the outer wall of the drum-shaped and slotted window.