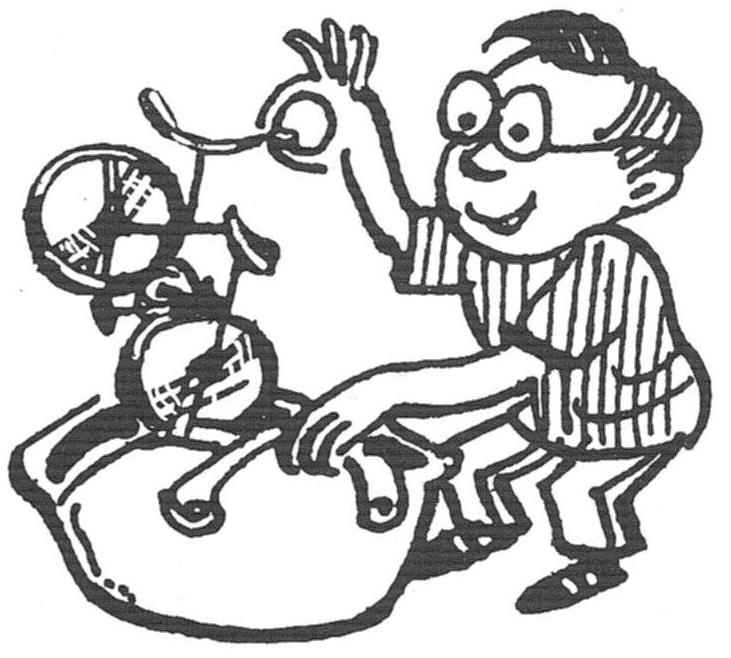 Folding bike nowadays. However, its dimensions even when folded great, and to keep it at home and even more to transport on the bus or tram is not always convenient.
Moscow engineer I. Sorokin has set a goal to develop a convenient folding bike smallest possible folded size. The outcome was a two-wheeled machine which after the transformation is placed in the bag with the dimensions 650x450x150 mm.
The frame of the bike – spinal type, it is bent from tubes with external diameter of 40 mm and a wall thickness of 2 – 2,5 mm. the Front frame is semimonthly node, consisting of two shaped 3 mm steel plates. To the frame plates are attached by welding. The holes for the hinge and the bolt retainer are drilled in the plates and is cut after welding. On the opposite side of the cap tube is welded to a bearing unit of the drive sprocket – the body of the carriage. Next to the slide to the frame is welded to a fixing device by which the rear fork is securely joined with the frame.
Front fork resembles a flattened 180° plug moped. It consists of stationary and rotary parts. Turning part – the bike steering column and two pens, each of which is welded two pipes telescoped into the other. The ends of the feathers flattened and serverlists holes in accordance with the diameter of the wheel axle, your chosen bike. The steering column is welded with feathers by means of two bridges -plates from a sheet thickness of about 3 mm is drilled into them holes under the column and feathers.