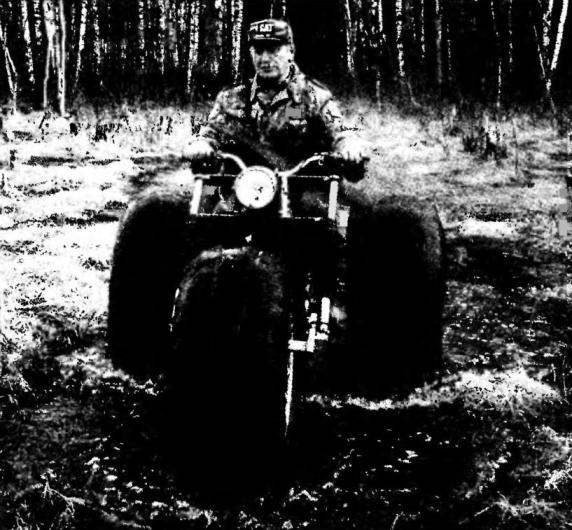 In the summer the motorcycle "Minsk" served me faithfully, like the fairytale the little humpbacked horse. In autumn and winter, due to the off-road, it idled, though the need for movement over long distances and in that time I was no less. That's when I decided to make him an ATV, but which if necessary could again transform the bike. Thumbing through the binder of the journal "modelist-Konstruktor" for a dozen years, found few publications on this subject that helped to define the schema of the vehicle and design of main components. Useful and previous experience of technical creativity. Required tools and equipment, which are available at many homebrew, I had the welding and machine, and even a small lathe with a fixture that allows you to perform the milling operation.
The creation of an all-season vehicle with the universal mover of a conventional motorcycle resembled a solution to the problem of "perpetual motion". And then there was only one way: to ensure patency of the car at certain times of the year using a modular, quickly replaceable propeller. As such, in addition to the normal wheels in the summer, seemed to Pneumatics — in the offseason and caterpillar for winter.
Constructive base was a little old two-wheeled motorcycle "Minsk" pretty "patched" and updated. Instead of regular motor on it set To engine-125 volume 125 cm3.