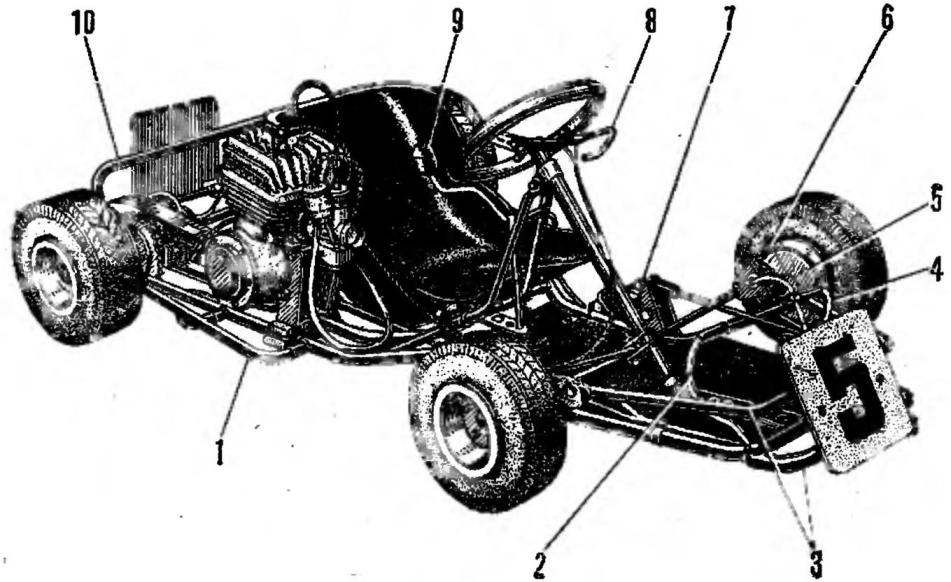 Circle carting of the Palace of pioneers of the Bauman district of Moscow one of the leading in our country. The team of the Palace is constantly among the strongest kart USSR. But a good reputation in the circle is responsible not only for his sporting achievements. He is known for his homemade racing micro cars. It would seem that anyone today could surprise card build in any more or less equipped laboratories. However "kruglikovsky" (by the name of the head of the circle) of the machine compares favorably to similar.
First, appearance. Hard to believe that this is not the factory instances, because the workmanship and finish is excellent. Second, the particular reliability and maneuverability through the use of original design solutions.
Innovations that help the Pets of Konstantin Ivanovich Kruglikova win prizes, here don't hide behind seven seals. In 1982, "M-K" published the latest construction map of "pioneer". This time readers are invited to little micro-car class "the Union" (age group "Junior"). It meets the highest international standards and is suitable not only for the young men 16— 18 years, but adults acting classes, "Union", A, B and C2.
On machines of this design drove the members of the club, champion of the VIII Spartakiad peoples of the USSR, 1983, Alexander Teplyakov, three-time champion of the Soviet Union Oleg Tregub, the winner of the all-Union competition in 1981 among young men Oleg Blazevski, as well as master of sports of international class, member of the USSR national team, two-time national champion Mikhail Ukhov, the repeated prize-winner of several national Championships Michael I. Gostelow many others.