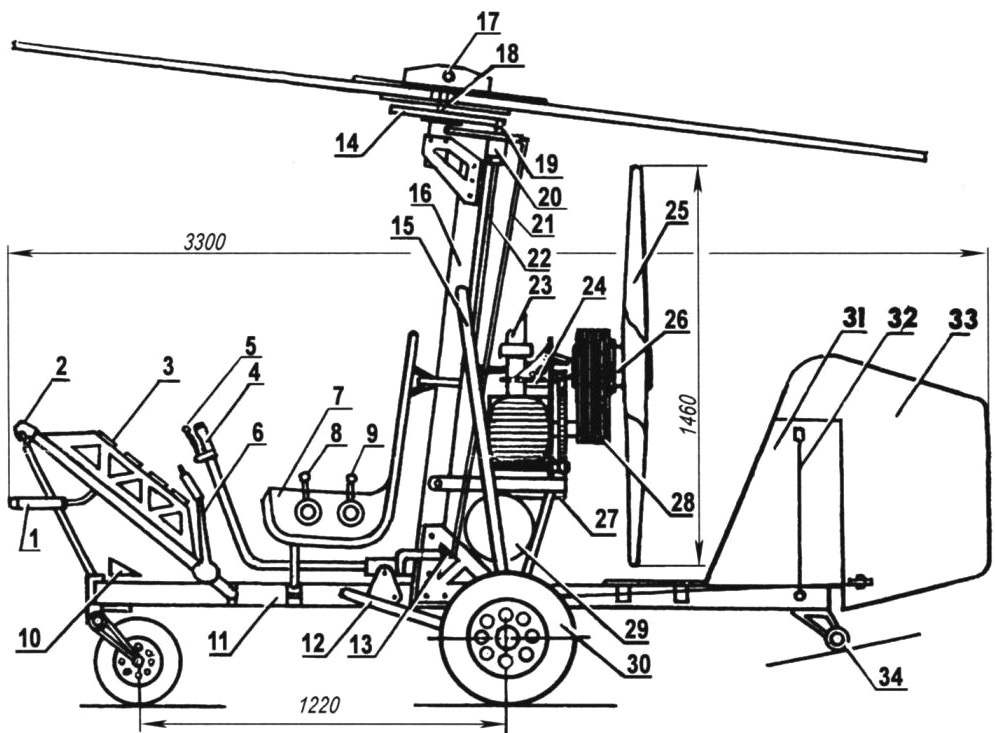 The story of the creation of our gyroplane, received subsequently the name DAS-2M has been around for many years. First autogyro DAS took to the air in a motorless version towed by a car "Zhiguli". It happened on one of the airfields of agricultural equipment until near Tula. After the first flight, we realized that the unit managed. But it took another few years, during which time we worked on the engine before experienced test pilot LII V. M. Semenov after just one run raised DAS-2M in the air. The event was marked in the future on the contest ALS special prize of OKB M. L. Mil, which is notified readers of the magazine "modelist-Konstruktor". The apparatus, according to the test pilot, has good flight characteristics and effective management.
As experience has shown, the gyro is first of all a good powertrain. No wonder the last nine years was given to him. During this time he developed twin-cylinder boxer engine, which allowed to obtain the static thrust of 145 kg, and allowed the autogyro to successfully rise into the air.
DESIGN GYROPLANE DAS-2M
The fuselage truss, tubular, collapsible design. The main element of the fuselage is a frame consisting of horizontal and vertical (pole) pipe diameter 75×1 made of steel 30KHGSA. They are mounted towing hitch with lock and receiver air pressure, the dashboard, the pilot seat, secured with seat belt, control unit, tricycle, with a nose steerable wheel chassis mounted on motorhome power unit with a pusher propeller, stabilizer, keel with rudder ball joint to the rotor. Under the keel mounted auxiliary tail wheel with a diameter of 75 mm. together with the Pylon struts with a diameter 38×2 length 1260 mm, tubular beams of the main wheels with a diameter of 42×2 in length, 770 mm, made of titanium alloy VT-2, and braces, diameter 25×1 length 730 mm of steel 30KHGSA form spatial power frame, the center of which is the pilot. With the horizontal tube of the fuselage and the ball joint of the main rotor pylon connects with titanium rails. In the installation of the scarves in the tubes is established the bougies made of aluminum В95Т1.