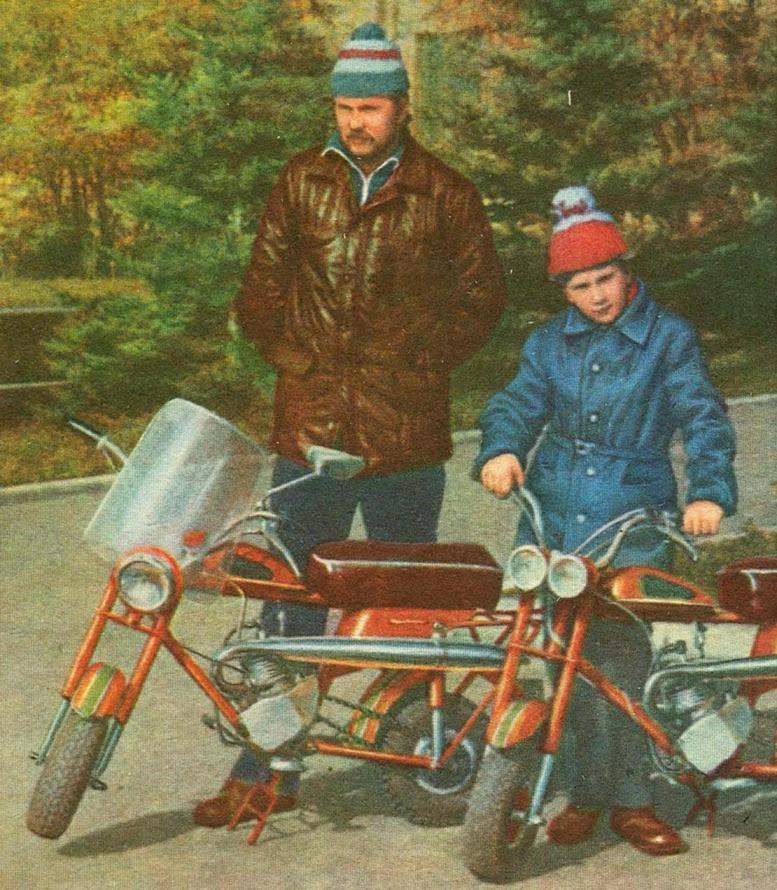 Adopted today, the classification of tan called micro motorcycles for the (dimensions allow to store a car in the apartment and transported her in the car). And family — because the design was suitable for me and for my son. Built two't have a minibike: from each other they differ only in the headlights, but otherwise identical. Here on this model, the "family" design will be discussed.
The most difficult knot, of course, the frame. It is welded from steel pipes. Moreover, the one-piece crossbar and the front and rear load-bearing composite struts. Bent on the bending machine and cutting billet struts are welded so that the connection resembles, figuratively speaking, a handshake. This is done in order to shift the D-6 engine to the left, for in the same direction and offset sprocket driven due to the large width of the rear wheel (it, like the front from the card).
The crossbar and the rear tray are connected at one point of the inner frame of the trunk. Its main strength member has a bend like a horseshoe from the pipe Ø20 mm and is welded to the segment of the same pipe, which has a propyl under ordinary fortochny loop. To last screws are attached to the seat base from desyatiletnego plywood. On top of him glued foam cushion upholstered in leatherette.