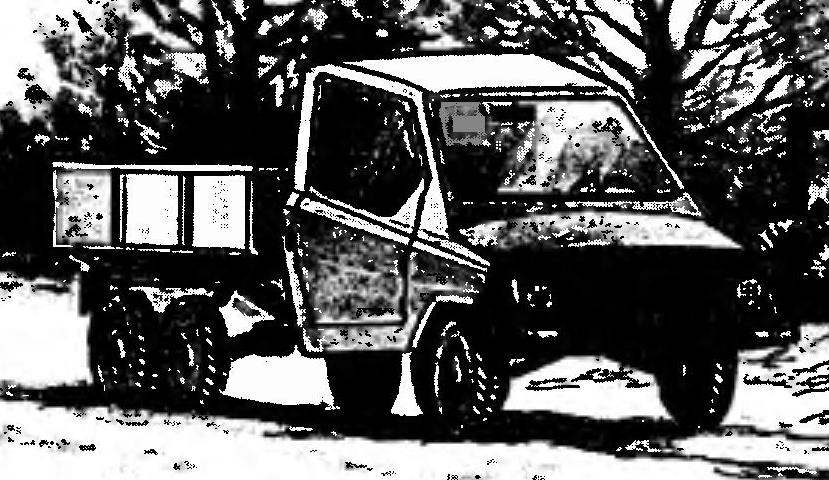 "Passenger car" combined with cargo trailer is an extremely convenient vehicle. However, it is not without flaws, which sometimes nullify all its advantages. In particular, significantly reduces the maneuverability of the car and it becomes almost impossible to reverse because the motorists unlike professional drivers a bad maneuver composite vehicles. Low passing "the Zhiguli" or "Zaporozhets" with a massive "tail" at the country and field roads. So, you need a simple and inexpensive malogruzovaja type scooter "Ant", but with a closed cabin and higher payload. And best of all — based on motorcycle components and assemblies: this will allow you to register it as a cargo motor transport funds. Moreover, motor units are much cheaper car.
As always, appealed to the sheet set "Moscheni. In the drawings, the frame with longerons, bent from a single pipe. However, if there is no strong bending, the side walls it is possible to do a composite, cook them direct from several blanks. And the joints it is preferable to make straight and diagonal.
In the front part of the frame is set to frame, which is secured to the engine and the so-called main transmission from the motorized FDD. The easiest way to make a subframe of old frame of the motorcycle "IZH-Jupiter" (with any digital index), but not too hard and cook it yourself in the image and likeness "peterhofskoe" frame. The subframe is bolted to the frame of malogruzovaja through the rubber cushion, which reduces vibrations transmitted to the frame of the truck.
The engine, as already mentioned,— of the motorcycle "IZH-Jupiter-5": modification of this motor with liquid cooling is best suited for all kinds of homemade vehicles. However, it is possible to use the classic "vents", for which it is easy to arrange cooling with electric fan.