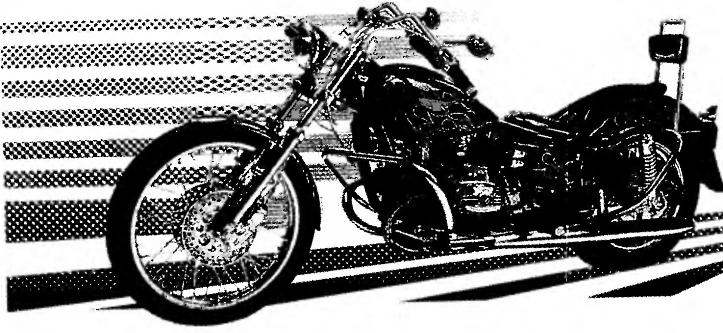 In illustrated catalogue "the World of motorcycles" for the year 1997 the publishing house "driving" a classification of motor vehicles, taking into account the purpose of the machines and their arrangement, according to which the choppers are one of the major groups known as Custom Cruiser motorcycles or American style.
The drivers of these heavy bikes sit straight with your legs straight forward. As for the machines, they have a number of characteristic of this style will: high "horned" steering wheel, split-level saddle, a large teardrop-shaped gas tank, extended reach front fork, wide but small diameter rear wheel and a huge number of chrome parts. On the road they look very solid because they put a "torquey" as a rule, two-cylinder four-stroke engines with a total volume of more than 600 "cubes". For example, modern copero produced by the progenitor of the style firm Наг1еу-0ау1с15оп, engine capacity exceeds 1300 cm3! However, this technique is quite expensive and while on the streets of Moscow you can hardly see it. A Russian motorostoitel and existing tuning company its developments only show at shows, then it is not moving. More can be found all sorts of rude reworking of the domestic motorcycles.
Intrigued by this subject, I visited perhaps the largest in Moscow led-motorino in Sokolniki, where he met cousins Alexei Kochetkov and Alexander Bakuchi-tion. The fact that they later showed in his garage exceeded all my expectations — the real choppers, but made mostly with his own hands, on the basis of the details, nodes and aggregates of domestic motorcycles. Of course, part of the work, especially related to electroplating and painting operations, they have to spend on the party, using the experience of professionals.