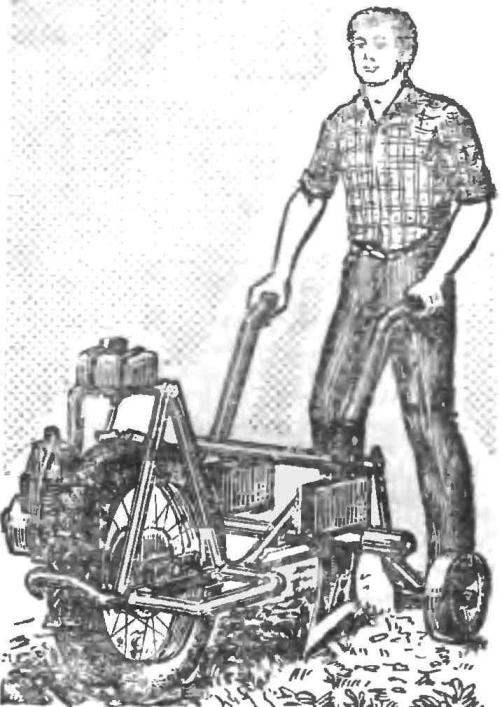 I live in Krasnoyarsk region. I have my own house and a small farmland. Every spring, homeland is the garden, I wondered how ease is to mechanize this hard work. So we decided – we need to build the motor-plow.
The engine I have was from a motorbike.
The frame I made from half-inch water pipes. Welded to it a bracket of the drive wheel (corners 40X25 mm and a length of 100 mm), support gear (steel plate 4 mm thick), cross with sockets for working bodies and shelves fuel tank chainsaw "Ural".
The engine is mounted in the fork tubes of the frame at point reinforced lengths of pipes. That it does not overheat, equipped with a forced cooling system is simple in design centrifugal fan. Its a homemade impeller attached to the end of the engine crankshaft. This machined axle and replace it regular the screw that secures the drive gear to the clutch. Brought the axle out through the hole in the clutch cover, put the impeller, pulley starter, and nut (bushing impeller and a pulley are connected by a pin preventing the mutual turning). The fan shroud that directs the air flow on the fins of the cylinder, riveted to the clutch cover.