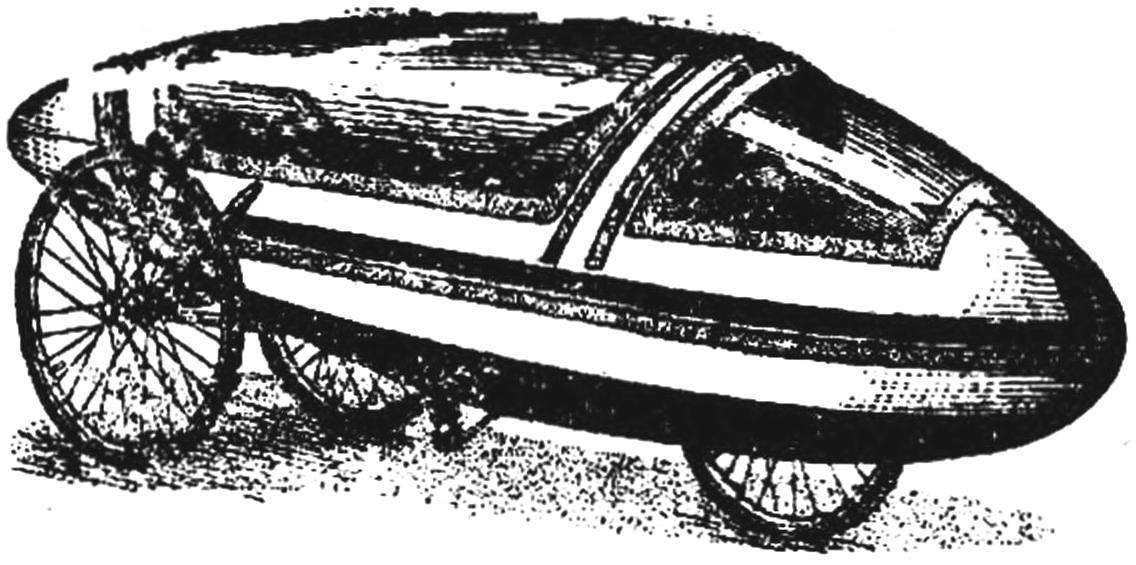 Invented and built unusual to our eyes the car of the students of the Moscow automobile and road Institute N. Belov, N. Dubinin, Yu Medovikov, A. Ortega-Gil and O. Khokhlova, under the leadership of Professor A. Narbut. In may 1983 they moved their offspring to the street, right on Leningradsky Prospekt. Drove along the facade of the MADI. The reaction of passers-by was clear — a genuine interest.
Central television in the program "This you" gave the opportunity to millions of fans of technical creativity to see design students and get acquainted with its device. And for those who are interested in "MADI-BC1" more deeply, we offer the description and drawings, prepared by one of its founders, now a graduate student Yuri Medovikov.
Passion for the pedal cars we have in the country is a new phenomenon. Demonstrations on them were first included in the program of all-Union festival of Cycling in šiauliai only in 1983. Participated a half dozen machines from the nimble Cycling card to the "Vilnius-82". Was presented and our "MADI-BC1".
It was designed as a sport, "BC1" in its name stands for "recumbent sports, first."
Analysis of known structures has shown us — this is easier to do. And the results achieved there can be higher than on the road. However, we didn't have to break records. Wanted to find out the advantages of pedal cars, so focused on the speed of 70 km/h is also quite high threshold.
This speed is achieved, firstly, by polulezhachee of landing a driver in the seat of the velomobile, which engages the muscles of the body, idle when riding sitting down. And secondly, thanks to the good aerodynamics of streamlined booths. But already at speeds of 30-40 km/h the air resistance increases so that the rider can not cope with it.
LAYOUT. We stopped for three-wheeled variant that can work without the shock-absorbing suspension. The wheels are placed as follows: steering in the front of the building, leading back outside. Of course, it is preferable to have them all on the outside, because the aerodynamics of a sealed enclosure better. Otherwise, there is the loss of inhibition in the cockpit of air flow. However, we had to sacrifice speed for the sake of simplicity.