In our city of Kingisepp were gliding club ROSTO, which I have since 1996 worked as a flight instructor. Of aircraft in the club were two light aircraft, four airframe. But they were not new. Money to buy new aircraft or the repair of old growth is no longer isolated. Aircraft equipment came into disrepair, and in 2000 the club was liquidated.
My life in aviation began from the age of 10, when I joined a model aircraft club. The cart worked for a long time and seriously, participated in competitions, received the title of candidate master of sports aerobatic models and aerial combat.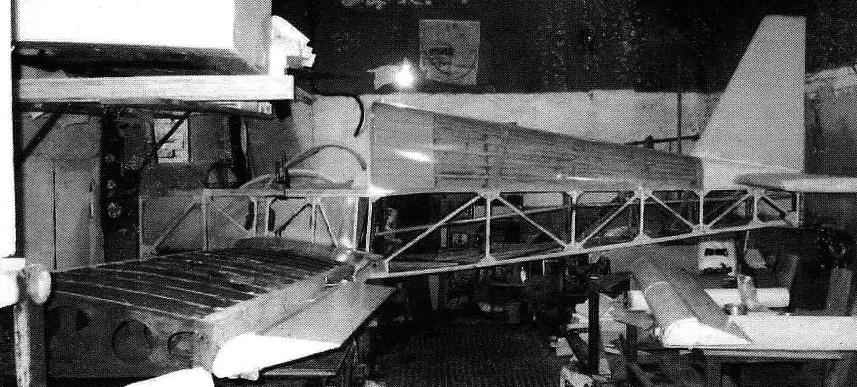 Then became a professional pilot: graduated in 1986 Buguruslan flying school of civil aviation (and in 2004 the St. Petersburg Academy of HECTARES). Therefore, not represent my further life without aviation and decided on their own and with their own money to build the plane. From old colleagues, few believed that from this invention something will turn out: after all, even to build an airplane is not so easy, and still have to get the airworthiness certificate, the state room to fly it officially. In the end, having overcome many difficulties and obstacles on this path, I implemented the plan and built a double low normal aerodynamic configuration with a tractor propeller with the engine VW 1600 firm "Volkswagen" with a capacity of 60 HP, air-cooled. In October 2002, she performed on its first flight. In September 2003, registered the plane in FLA, under the designation of f-1 and got the tail number.
In the same year created a non-commercial partnership "Kingisepp flying club "Rise", in which there are new members. Bought the an-2 plane with him were "to throw" the parachutists, and on a homemade aircraft to teach the piloting. F-1 flew on all existing airfields of the Leningrad region and even to Tver and Novgorod the Great.
The aircraft, f-3, which will be discussed below, was an evolution of the previous f-1. To design and build the f-3, I started at the end of 2003 a Great help to the construction of the aircraft I had Alexander Chilikin. The first flight on the f-3 made in March 2005, and registered it as EMS caller ID 17.05.2007 G.
Aircraft — twin, an educational-training, travel. According to aerodynamic design is a classic cantilever monoplane with the lower wing and tail without braces. Design — wood, with a fiberglass covering. For it was used mainly finished sheet-fiberglass brand STEF-05 (thickness 0.5 mm).
The power plant of the aircraft — engine VW 2100 firm "Volkswagen" with a capacity of 112 HP at 4800 rpm, four-cylinder, four-stroke, liquid (antifreeze) cooling. Running on gasoline A-95.