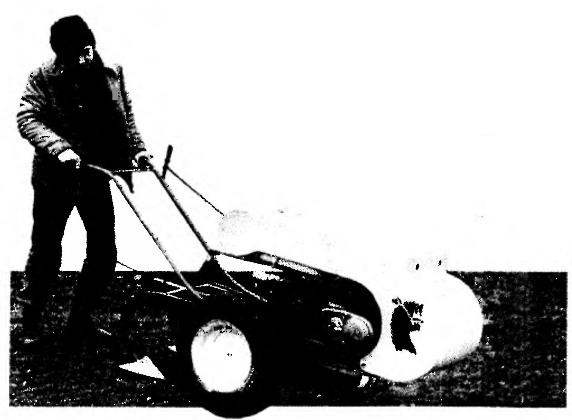 In gardens and orchards, dachas and school grounds — wherever there is a need to treat a small area of land, widely use universal blocks (UMB). Including homemade, are often created with maximum use of standard components and parts. One of these structures was developed and successfully tested in the case of members Ceadir-Lunga syut under the leadership of Vladimir Konstantinov.
Small(1700х900х840мм complete with arms) 140-kg machinery, has received from its creators sonorous name "Kearney", performs four operations: ploughing, harrowing, cultivation and ridging row crops. And in coupling with a single axle truck may be used for local transportation of goods weighing up to 200 kg at a speed of from 2 to 40 km/h. Such a compact and simple to manufacture, and management is available even to schoolchildren. One hour at a speed of 2 km/h "Kearney" plowing a plot size of 0.05 ha. Replacement of plow cultivators or other work on runs for two or three minutes, because they are fixed to the frame of UMB with just a few bolts M10.
Kinematic scheme of transmission is simple (and hence reliable). From the powertrain, borrowed by members in the club have Sutow-sky motorcycle "Minsk", the torque is transmitted to intermediate shaft drive chain roller PR-19,05 from the drive sprocket g = 12 and the driven — G2 = 28.