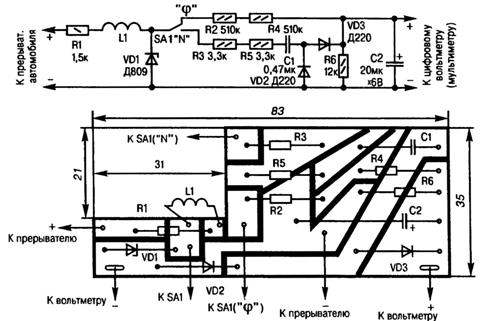 Owners of digital multimeters offer to acquire a homemade console that will allow you to convert the popular M-830 M-832 and their counterparts in the universal devices, capable to become a reliable assistant and service vehicles. In particular, it will be possible (along with the already mastered many of the health check of the relay-regulator, a current measurement battery power and other electrical parameters on-Board network) to quickly estimate the important performance of the ignition system carburetor of the engine, as the crankshaft rotation and angle, open (easily converted into a corner closed) status breaker contacts.
To work with the prefix multimeter set mode voltmeter with scale 2000 mV. In "N" position of the switch SA1, the instrument measures the pulse frequency of the primary winding of the ignition coil. The feature used here is the technical solution is such that each opening of the breaker contacts, the capacitor C1 is charged through the circuit R3R5VD3R6 to a voltage stabilizing Zener diode VD1, and each circuit is discharged through the resistors R5, R3, coil L1, resistor R1, closed contacts of the interrupter and diode VD2. But that's not all.
The voltage drop across the resistor R6 in each cycle of charging the capacitor C1 charges the capacitance C2 to a voltage proportional to the frequency of opening (closing) of the breaker contacts.