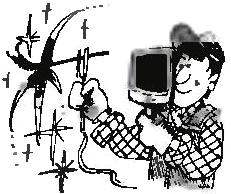 Sure: from a compact and yet sufficiently reliable, cheap and simple to manufacture "svarochnik" no workman, Thrifty, the owner will not refuse. Especially if he knew that at the heart of this machine is easily upgradable 9-ampere (familiar to almost everyone from school physics lessons) laboratory autotransformer ЛАТР2 Yes homemade mineralwater with thyristor rectifier bridge. They allow not only to safely connect to domestic lighting AC voltage of 220 V. but to change u on the electrode, and means to select the desired value of welding current.
Modes of operation set with the potentiometer. Joint capacitors C2 and C3, it forms a phase-shifting chains, each of which actuating during a half period. opens the corresponding thyristor for a certain period of time. As a result, the primary winding of the welding T1 are adjustable 20-215 V. Transformed in the secondary winding, the required -u make it easy to strike the arc for welding on AC (terminals x2, X3) or straightened (X4, X5) current.
Resistors R2 and RZ shunt control circuit of the thyristors VS1 and VS2. The Capacitors C1. C2 reduce to an acceptable level of interference accompanying the arc discharge. In the role of a light detector НL1, signaling the start of the machine in household electricity used nonova light bulb with a current limiting resistor R1.
To connect "svarochnik" for residential wiring applies the usual plug X1. But it is better to use a more powerful electric connector, which is vulgarly called "Euro plug the Euro plug" . And as the switch SB1 is suitable for "batch file" ВП25 designed for the current 25 and allowing a break both wires at once.
As practice shows, set on the welding machine any fuses (Pro-Levoberezhnye machines) does not make sense. Here we have to deal with such currents, under exceeding of which will certainly work protection on input in apartment.