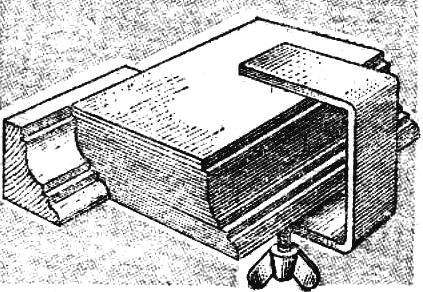 Any complex shapes are easy to copy, if you use a set of thin plates from the available material — cardboard, plywood, plastic, metal. Enough to push a package to the playable terrain, and a sliding plate just repeat the pattern twice: on the mating surface will be a matrix, "concave" option, on the opposite — the copy, if the plates were strictly the same width. To consolidate the obtained image, holding the bag with a clamp. If the components of the package were pre-lubricated in any non-viscous adhesive, after drying and processing will receive the finished product, just repeating the original drawing.
Recommend to read
VELOCIGENE
The trunk on the bike — a thing certainly useful, but it is not always convenient, Even a small load has to carefully consolidate. And here is a special bag that is patterned after the...
DRAWS A SPATULA
We all know that the spatula is smooth steel or rubber plate intended for plastering work. However, it can be used for other purposes. If you want to put on a wall or ceiling a beautiful...