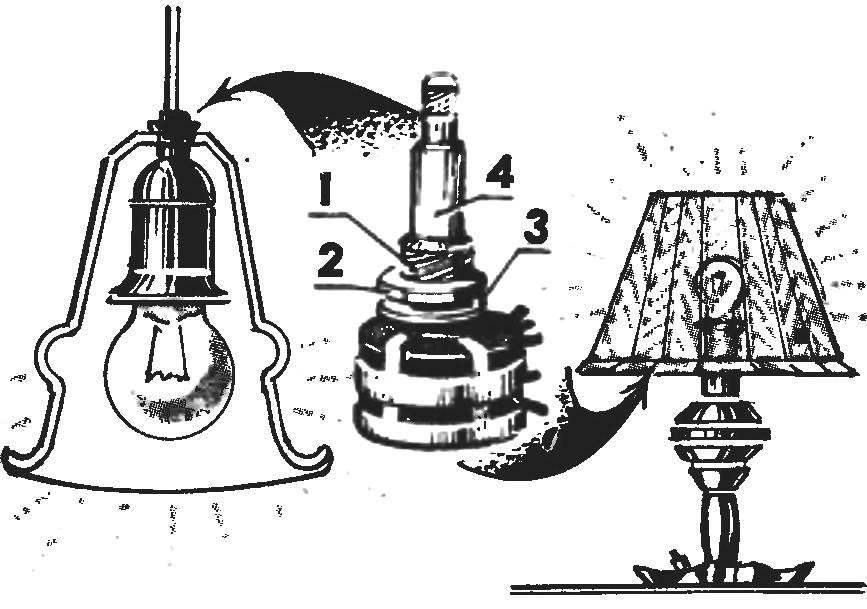 Do you have old dual variable resistor (e.g., type SP-P to the same flawed)? Do not rush to throw it away. It is, in fact, the ideal mounting site for homemade sconces, floor lamps, table lamps, chandeliers of various designs. Sleeve 1 (see Fig.) is perfectly suited, it turns out, when installing the cartridge in svetilnik: she tightened nakrepko secret 2, under which is placed a washer 3. And if you also want zakrepit cartridge for trouble-rack (say, a lamp), and a hollow axle 4. As an adapter,of course.
E. SAWICKI, Korosten
Recommend to read
SAWING — DIE
Fans decorative fretwork jigsaw know: saws, fragile, broken — will not save enough! However, why not stock up? Not only by the saws, and a simple fixture to make them. The originality...
SPLIT MISSILE
Czechoslovak athlete A. Turnips became the winner of the world championship held in 1978 in Bulgaria. He performed with the model missiles S-6-A. the Distinctive feature of his model —...