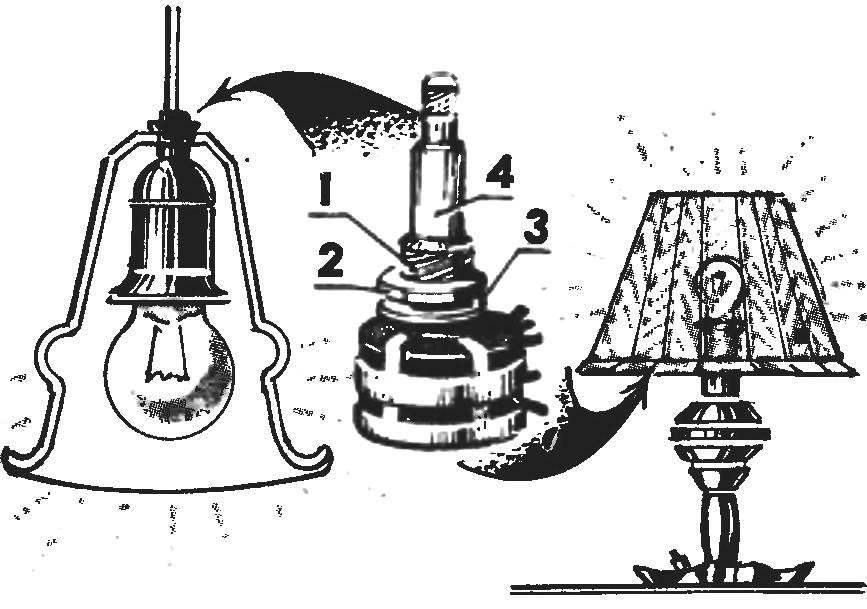 Do you have old dual variable resistor (e.g., type SP-P to the same flawed)? Do not rush to throw it away. It is, in fact, the ideal mounting site for homemade sconces, floor lamps, table lamps, chandeliers of various designs. Sleeve 1 (see Fig.) is perfectly suited, it turns out, when installing the cartridge in svetilnik: she tightened nakrepko secret 2, under which is placed a washer 3. And if you also want zakrepit cartridge for trouble-rack (say, a lamp), and a hollow axle 4. As an adapter,of course.
E. SAWICKI, Korosten
Recommend to read
NUT HELP THEMSELVES
When saw off part of the thread of the long bolt (screw, stud), in place of sawing produces burrs, dents. This makes it difficult to time the screws when screwing. The matter is...
THE EYE SEES, BUT THE TOOTH IS ITCHING!
So we usually say, seeing on one of the upper branches of a particularly delicious Apple Believe me, you soon forget this saying, if you do a simple capture, depicted in the drawing....