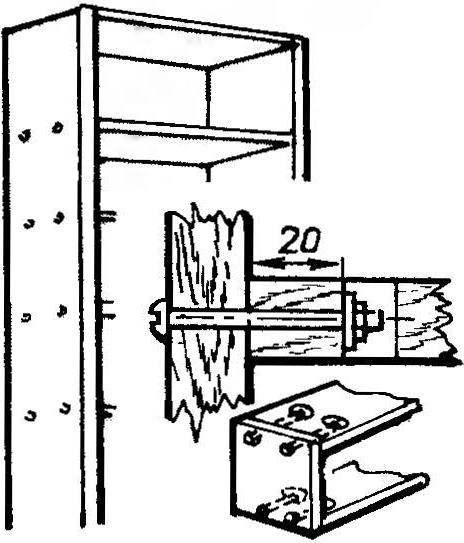 In the manufacture of bookcases I made sure that the connection is full to the walls with nails, spikes or corners and base rails with screws is not always provides the strength and rigidity of the structure due to drying of wood, glue, and therefore not very reliable. I think that a more practical way of connecting with full of side walls coupling bolts with nuts, which is shown in the figure. After evenly tightening the screws with a screwdriver the whole structure becomes rigid and rectangular, other compounds to provide very difficult.
Recommend to read
OF EGG CONTAINER
Offer to store small bolts, screws, nails, nuts and washers, and any other such trifle — cell cardboard or plastic container from under the eggs.   V. GOLOVASHIN, Rybnoe, Ryazan region.
MIRROR, MIRROR, HELP!
Pipes of heating are laid, usually near the walls, and even along corners. On the reverse side is difficult not only to paint them, but even control the quality of work. To tighten the...