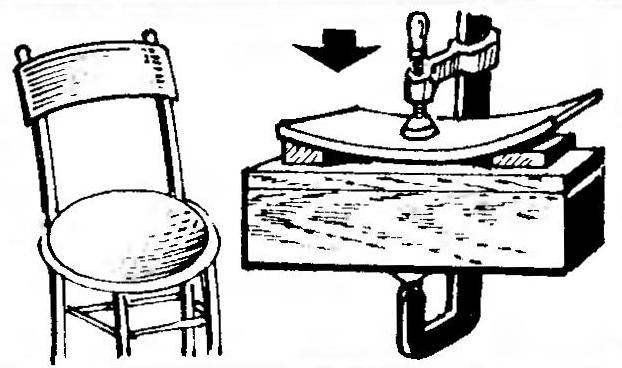 The back of the chair can be flat, but bent much easier. How to do this? This does not require special equipment and technology is simple. Enough to have a furniture clamp and several supporting wooden beams. The middle of the plywood workpiece backless steamed over the spout of a boiling kettle. Placed it on two pieces of wood, steamed place of the preload clamp and leave for a day or two in this position the deflection will continue after the workpiece is removed load.
Recommend to read
NOW DON'T SLIP OFF
Not only plastic, but also wood rulers, especially the long, at carrying out with their help lines are often displaced under the pressure of the pencil or ruling pen. This does not...
TWO CHAMFER — TIME
In the processing of flat pieces cut from sheet materials: soft metal, plastic, plexiglass — sharp edges it is desirable to remove or to blunt (to make the chamfer). The simplest tool...