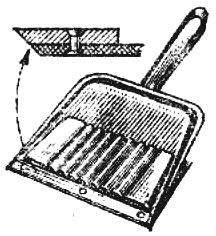 No words, plastic dustpan easier and more hygienic than metal. But its working edge for strength are made thick, and it is an insurmountable barrier for dust: not just a broom, even toothbrush hard to "raise" it in the scoop. Bottom glue any glue for plastics-metal strip, for example, an old saw blade. Then the working edge of the scoop can be sharpened without fear of strength loss.
Recommend to read
MULTI-STAGE STORM HEIGHT
The idea of composite, or multi-stage rocket put forward by K. Tsiolkovsky in 1929. And on may 19, 1938 near Moscow for the first time in the world was launched two-stage rocket designed...
STEP IT UP!
To make the tension spring is easy: a tight navit wire round rod — coil to a coil. However, a spring working in compression, this technology is not suitable: between its coils must be a...