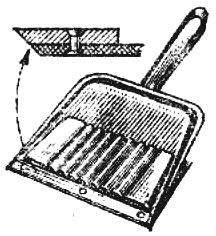 No words, plastic dustpan easier and more hygienic than metal. But its working edge for strength are made thick, and it is an insurmountable barrier for dust: not just a broom, even toothbrush hard to "raise" it in the scoop. Bottom glue any glue for plastics-metal strip, for example, an old saw blade. Then the working edge of the scoop can be sharpened without fear of strength loss.
Recommend to read
TWO CHAMFER — TIME
In the processing of flat pieces cut from sheet materials: soft metal, plastic, plexiglass — sharp edges it is desirable to remove or to blunt (to make the chamfer). The simplest tool...
"ETERNAL" BRUSH
Commercially available brushes have durable plastic pile, and cover with the mounting node of thin plastic is weak. To extend sluzby brush, you need the screws to install the metal...