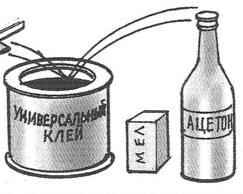 Simple home technology allows to obtain a universal adhesive, which is applicable for the connection details from a variety of materials.
For its production is taken linoleum old varieties, crushed and filled with acetone for 10-12 hours. After dissolving, the glue is ready to use, and the density of it is adjustable by adding one of the components or by mixing powdered fillers (chalk, talc, sand).

Recommend to read
"GRAD" AMERICAN STYLE
In the 1970 - 1980s, Soviet designers created the powerful jet system of volley fire MLRS, the superiority of which was recognized by military professionals worldwide. Under their...
THE FLASHER-PROBE
Electric circuit "call" usually with a tester or device with audible indication. The probe, about which we talk today, informs about the health of an electric circuit with a light...