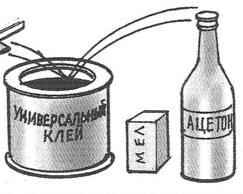 Simple home technology allows to obtain a universal adhesive, which is applicable for the connection details from a variety of materials.
For its production is taken linoleum old varieties, crushed and filled with acetone for 10-12 hours. After dissolving, the glue is ready to use, and the density of it is adjustable by adding one of the components or by mixing powdered fillers (chalk, talc, sand).

Recommend to read
OF THE BOXES — WARDROBE
Now self-respecting Shoe company pack their products in such a beautiful and, most importantly, strong boxes, which brought a purchase from a shop, makes you wonder what would it eat?...
Cup HOLDER? IT IS NOT NEEDED!
His appearance holder, obviously, was due to the fact that it was not possible to attach the handle to the glass. Modern chemistry allows you to do this even at home. Take the glue BF-2...