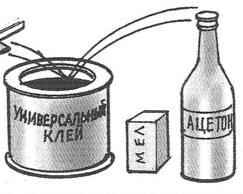 Simple home technology allows to obtain a universal adhesive, which is applicable for the connection details from a variety of materials.
For its production is taken linoleum old varieties, crushed and filled with acetone for 10-12 hours. After dissolving, the glue is ready to use, and the density of it is adjustable by adding one of the components or by mixing powdered fillers (chalk, talc, sand).

Recommend to read
THE SPOON ON THE BUCKET
Well mixed mortar is quite a heavy mixture, which is difficult to work with. To give greater plasticity, the builders introduced it with various additives, such as clay. Work becomes...
THE DRILL BECOMES A MACHINE
Offer for fans of DIY table homemade drill press using hand drill. On a solid base is mounted a hollow stand-tube, movably installed inside the stock. On the one hand, he sliced the rack...