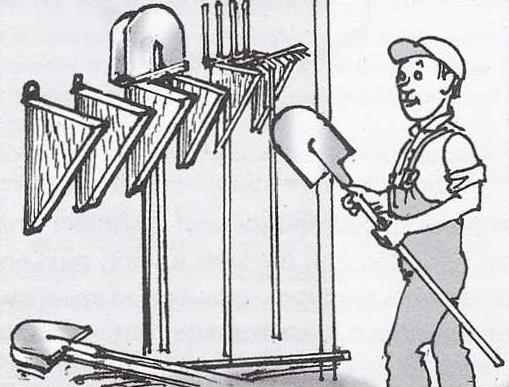 No matter how carefully posed in a corner storage room in the garden or summer cottage the rakes, spades, forks, hoes — they are still getting in the way: take the place of the fall.
Right-angled triangles from the Board, attached on the wall next to the pantry, will serve as a hanger storage selkhozinvest after work or the end of the season.
Video:
Recommend to read
TRIANGLE TRUCK
If you don't have a truck to transport the suitcase, it can be easy to make it on their own. To a wooden plank (15Х10Х360 mm) attach two small wheels, and the other two straps (5Х40Х630...
LOOSEN CLIP
Today there is no problem with the acquisition of standard garden tools, whether a shovel, rake, hoe. However, some work to do with the special tool still more effective: the performance...