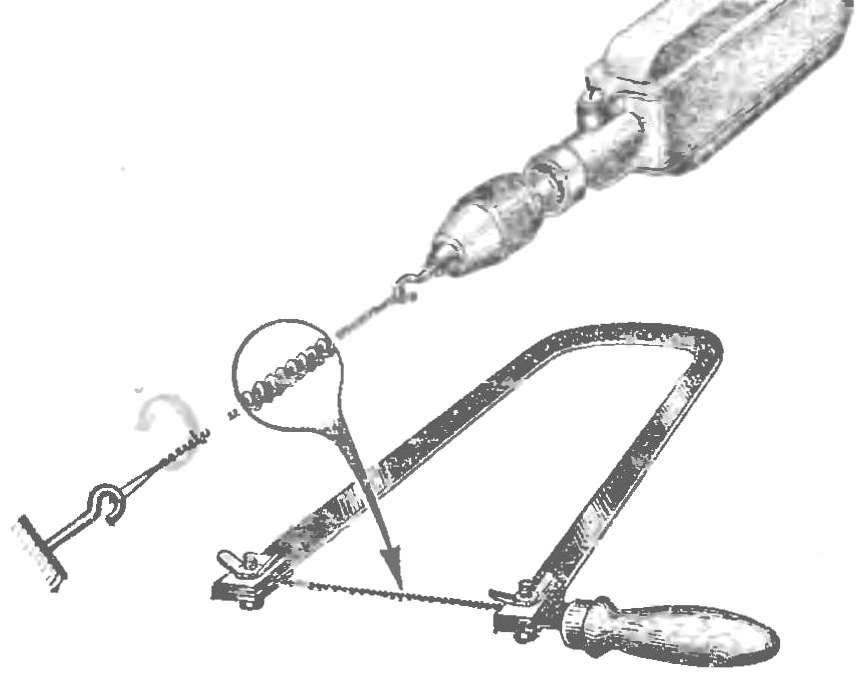 Will not save enough for beginners of lobzikovye saws — everybody knows the head of the technical group. We found a simple way out of this situation and would like to share an idea with all the modelers. Is folded in half cut cords Ø 0.3 mm, wound in a rope using the hand drill, can serve as a nail file. Working this tool is a little slower, but it does not break. And saws in any direction, which is important in the manufacture of shaped parts. Unusual instrument "in the teeth", or rather "rounds", not only wood. Nail file-a cable with success cope with foam and plexiglass.
V.

MILLER, a member of the aeromodelling circle syut, Tuapse
Recommend to read
"CARATOVORA"
Recoiling the rope from multiple cords by using a simple device. In a wooden bar size 400x60x30 mm drill at a distance of 140 mm from each other three-hole Ø 6 mm. they put In the...
THE INSTRUMENTAL IMPROVISATION
Every GameSpy master keeps his tools in different ways. Most often just keep them in an old suitcase or a crate of parcels in a closet or in the attic, folded haphazardly. Here is a...