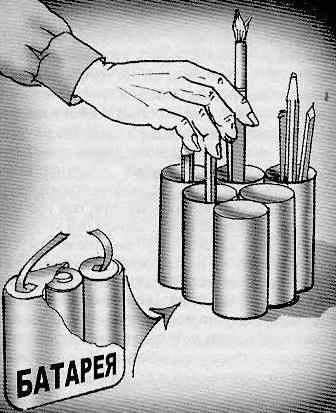 Impromptu organizer can be made of several end-of-life electrochemical cells with a nominal voltage of 4.5 volts (battery type "3336"). They must be extracted from paper nests, which are then to clean the inside and glue together (the more buildings, the set it would be more stable and roomier). Organizer is ready. Pencils it is better to insert a sharpened pencil up, and ballpoint pens — writing the item down.
Recommend to read
THE SOLENOID
So, you are already familiar with the electromagnet, knows how to work the buzzer and electric bell (see "M-K" No. 8 this year). But there is a large group of Electromechanical devices,...
SO RELIABLE
In the manufacture of bookcases I made sure that the connection is full to the walls with nails, spikes or corners and base rails with screws is not always provides the strength and...