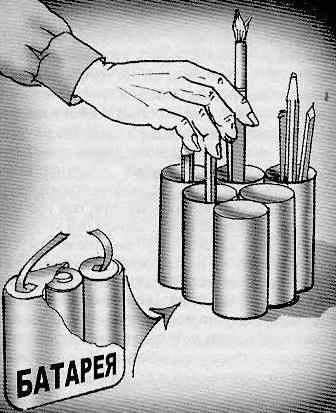 Impromptu organizer can be made of several end-of-life electrochemical cells with a nominal voltage of 4.5 volts (battery type "3336"). They must be extracted from paper nests, which are then to clean the inside and glue together (the more buildings, the set it would be more stable and roomier). Organizer is ready. Pencils it is better to insert a sharpened pencil up, and ballpoint pens — writing the item down.
Recommend to read
COLLET-UNIVERSAL
Clutch pencil, calculated on a fat pencil, can find unexpected applications. For example, help in cases when a small screw you need to tighten in tight spaces; turn into a ballpoint pen,...
WITHOUT A BRUSH AND IS CONVENIENTLY
Offer an easy and convenient option of using paper glue sold in plastic bottles without a brush. On the lid of the bottle make a hole with a diameter under the core-tube of a ballpoint...