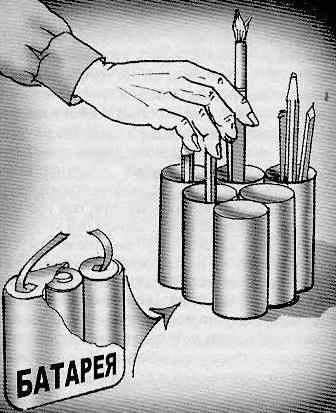 Impromptu organizer can be made of several end-of-life electrochemical cells with a nominal voltage of 4.5 volts (battery type "3336"). They must be extracted from paper nests, which are then to clean the inside and glue together (the more buildings, the set it would be more stable and roomier). Organizer is ready. Pencils it is better to insert a sharpened pencil up, and ballpoint pens — writing the item down.
Recommend to read
PONCHO CYCLIST
The driver of the car is protected from rain by the body of the rider in motion "will cover" a wide windscreen and flaps, the pedestrian will stay dry under the small umbrella. Only the...
THE MACHINE DICTATES THE SPEED
In the "M-K" No. 4 in 1983 was about a cord of car-class copies of "rally", developed under the direction of E. Voronin. The design proved so simple and reliable that are built on...