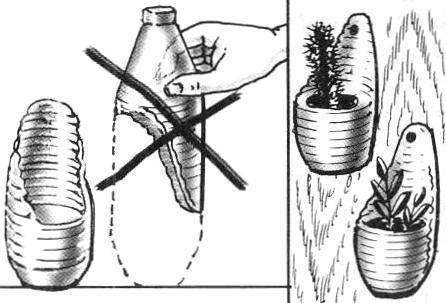 Large plastic bottles of drinks less thrown away, but are increasingly used for various craft projects featuring eye-catching appearance and good quality material. Here's another option for their use on the balcony or in the country as a planter for flowers. How to do it — it is clear from the figure.
Recommend to read
THE BOOTS ON THE RACK…
Indeed, I may call it depicts the coupled stand, thanks to which the boots do not stand and hang. The advantage is obvious: the shaft of such fashionable footwear do not crumple, because...
THE RETURN OF THE MINI
FRONT-WHEEL DRIVE MINI COOPER S 2002 ISSUE. Until now, the main trend of the world design was the desire to create a car that did not create one. The designers were looking for new...