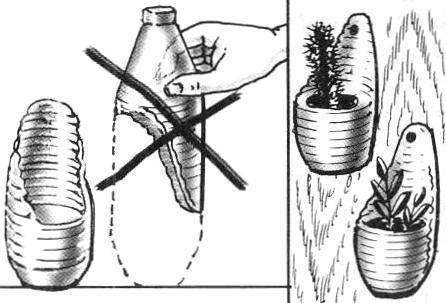 Large plastic bottles of drinks less thrown away, but are increasingly used for various craft projects featuring eye-catching appearance and good quality material. Here's another option for their use on the balcony or in the country as a planter for flowers. How to do it — it is clear from the figure.
Recommend to read
GASOLINE IS NOT NEEDED
I built most of the vehicles are based on commercially available motorcycle or bike noisy and power hungry internal combustion engines. It was with one hand comfortably, and the other is...
FROM THE GRANDFATHER IN THE INHERITANCE
Is made whether furniture or other woodwork — home of the wizard there is a desire to decorate their curly reliefs, patch convex pattern... Here it would be bailed out lathe. But the...