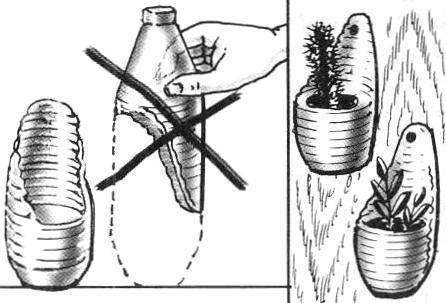 Large plastic bottles of drinks less thrown away, but are increasingly used for various craft projects featuring eye-catching appearance and good quality material. Here's another option for their use on the balcony or in the country as a planter for flowers. How to do it — it is clear from the figure.
Recommend to read
IN THE CENTER — SNIPER
Like in the "bullseye" target, to get to the center of the end face of the cylindrical body of rotation help simple tool, consisting of only two parts. They can make plastic, metal or...
HANGER-CLIP
To embed in the wardrobe small, but long toilet articles — scarves, belts, ties — usually on the doors do metal braces. However, they are very inconvenient to use: hang items in several...