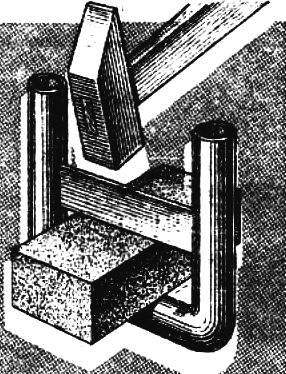 That no stack of brick — decorative fireplace whether in the apartment or in the country, the Foundation wall, along with a whole brick is often required and smaller parts. Experienced bricklayer smashes the bar with a hammer, but even in his hands a brick sometimes shatters into pieces. Use this simple device and you will surpass the master brick will be cut like butter with a knife. And all you need to do is bend the pipe and insert in its sawn ends steel blade: single hammer impact on it and the break will be smooth, like really after the saw.
Recommend to read
HERE'S A SPATULA
We are all accustomed to the fact that the spatulas (tools for applying putty) are smooth metal, plywood or rubber plate. Of course, if you want luted to a flat surface, they can not do...
CUT… A SOLDERING IRON
Offer a design thermal knife for cutting carpets and rugs of man-made fibers. Their edges are usually lohmataya and have a slovenly appearance. This will not happen if you use the...