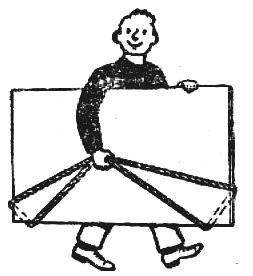 To carry or move the sheet of glass, slate, plywood is always a problem; not girth and take not for that. Take the rope, the length of which should be twice the length of the sheet, add a small margin and tie the ends in a strong knot. Taking the resulting loop in the middle, throw it on both bottom corners of the sheet and you can pick it up and carry the rope, like the handle of a suitcase.
Recommend to read
CELL INSULATION
The lightest three-layer plate with a honeycomb filler can be obtained, if you use this hint. The middle layer is empty matchboxes glued in a checkerboard pattern, for example, the sheet...
MEASURES THE BOLT…
To permit sheet metal, need metal shears and a line with the Scriber for drawing cut lines. And if you can see the curved workpiece? Use the bolt or stud of suitable length, as shown in...