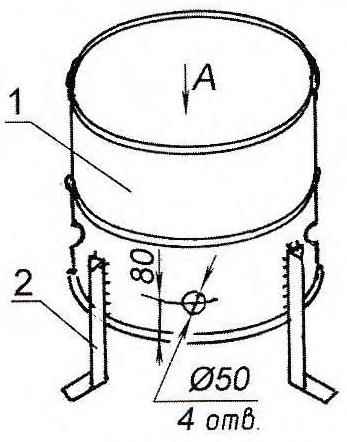 On a country or a plot over time, accumulate debris that owners tend to burn in the fire, that is unsafe in the fire relation. Much better for these purposes to have a special stove, make that very easy.
In a conventional 200-liter barrel available method (welding, drill, chisel) have several ash-pit hole with a diameter of about 50 mm at the bottom and two pairs of the same inner side a little higher from the bottom.
Incinerator garden waste:
1 — furnace (barrel V-100… 200 l);
2 — leg (steel area 35×35, 3 or 4 pieces)
---
Even to the bottom of the shell, attach (weld, priklopiti, tighten the bolts) three or four legs, made of, for example, from the corner of 35×35. The length of the angle should be such that you have at the bottom of the legs to bend the legs, and above — to do at least 150 mm overlap of the legs on the sides of the barrel, and the distance between the earth and the bottom would be about 200 mm.
A. MATVEICHUK, 3 in o d o u K o V s K, Tyumen region.
Recommend to read
ANOTHER FOLDABLE
Such desks there are a number of things. One of them is the ability easily, disassembled for parts, to move from place to place, for example to put in the garden, in the yard. Younger...
BATH WITH A SAMOVAR
Bath anciently considered one of the most effective "preventative care" for the human body. Since time immemorial are popular and are being built in some places even today the simplest...