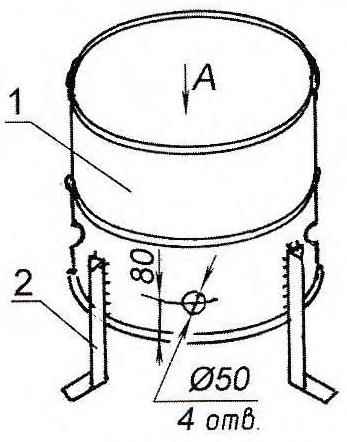 On a country or a plot over time, accumulate debris that owners tend to burn in the fire, that is unsafe in the fire relation. Much better for these purposes to have a special stove, make that very easy.
In a conventional 200-liter barrel available method (welding, drill, chisel) have several ash-pit hole with a diameter of about 50 mm at the bottom and two pairs of the same inner side a little higher from the bottom.
Incinerator garden waste:
1 — furnace (barrel V-100… 200 l);
2 — leg (steel area 35×35, 3 or 4 pieces)
---
Even to the bottom of the shell, attach (weld, priklopiti, tighten the bolts) three or four legs, made of, for example, from the corner of 35×35. The length of the angle should be such that you have at the bottom of the legs to bend the legs, and above — to do at least 150 mm overlap of the legs on the sides of the barrel, and the distance between the earth and the bottom would be about 200 mm.
A. MATVEICHUK, 3 in o d o u K o V s K, Tyumen region.
Recommend to read
VENUE, COMES ASHORE
Amphibious vehicle design N. M. Purtova. Doesn't that sound nice, getting up early in the morning, roll the boat out of the garage, lay a tackle, get in, press the starter and... to take...
RING ERASER
In the box with old jewelry always find a ring with the fallen from the rim of the stone—put is a piece of school bands. It can be pre-processed, giving a conical shape that allows you...