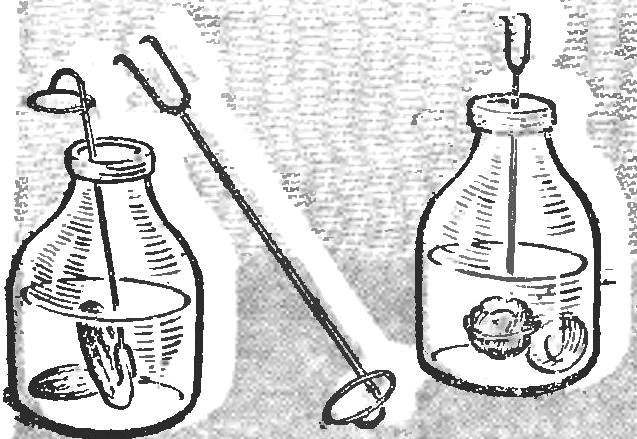 It is not easy to get out of the big banks pickled cucumber or tomato, but this fixture is not difficult. Take the Wire of Ø 3 mm stainless steel and prepare three items: U-shaped fork, the ring and the rod-handle. Remains carefully weld them as shown in the figure, sanded the seam, and you have in your hands a handy tool: harpoon for cucumbers and a trap for tomatoes.
A. SKOROKHODOV, Belorechensk, Krasnodar Krai
Recommend to read
PYRAMID FOR CUCUMBERS
It is believed that when the whip cucumber shoots have the ability to curl up like vines, the harvest increased, and deprived of contact with the ground the cucumbers are better...
WITH THE BIKE UNDER THE MOUSE
For those who often have to go up and down with the bike on the stairs, might want a special handle for carrying. It is made of metal tube 18...25 mm and is fixed by welding or clamps to...