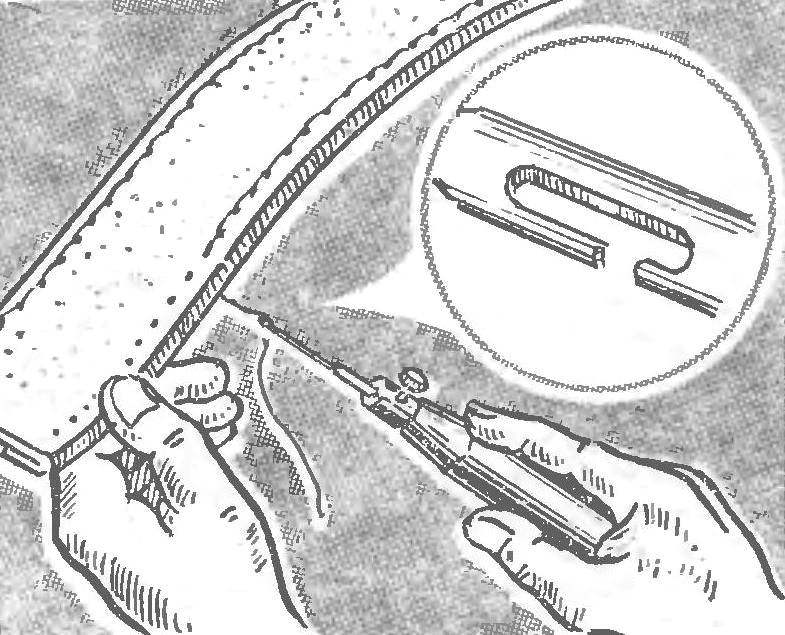 To restore the native line in the repair of belts, straps, bags, small hook. But knitting is too big, and thin enough to make yourself uneasy. I propose to use an awl with a tiny hook of the needle of the sewing machine. Abrasive stone or diamond needle files, run the propyl side to lug, as shown in the figure. To make it easier to work, carved from duralumin rod pen-holder with clamping screw M3. Flash stitched previously, the materials in this tool is very simple: the minimum size of the hook makes it easy to go in any hole. However, to connect the new parts of dense or thick materials, not to break the hook, you first pierce them with a thin awl or with the same pen-holder conventional machine needle.
M. CHERECHES
Recommend to read
FIGHTERS SEEDS ALEKSEEVA
In 1946, after about a year after relocation, the design Bureau of S. A. Lavochkin in Moscow at the plant named after Sergo Ordzhonikidze in Gorky organized the design Bureau OKB-21,...
SPINNING WHEEL, BUT NOT GRANDMA
Times of shortage, it would seem, were but a grandmother for her grandchildren the old-fashioned way tend to knit warm clothes, especially socks and mittens. The best material for these...