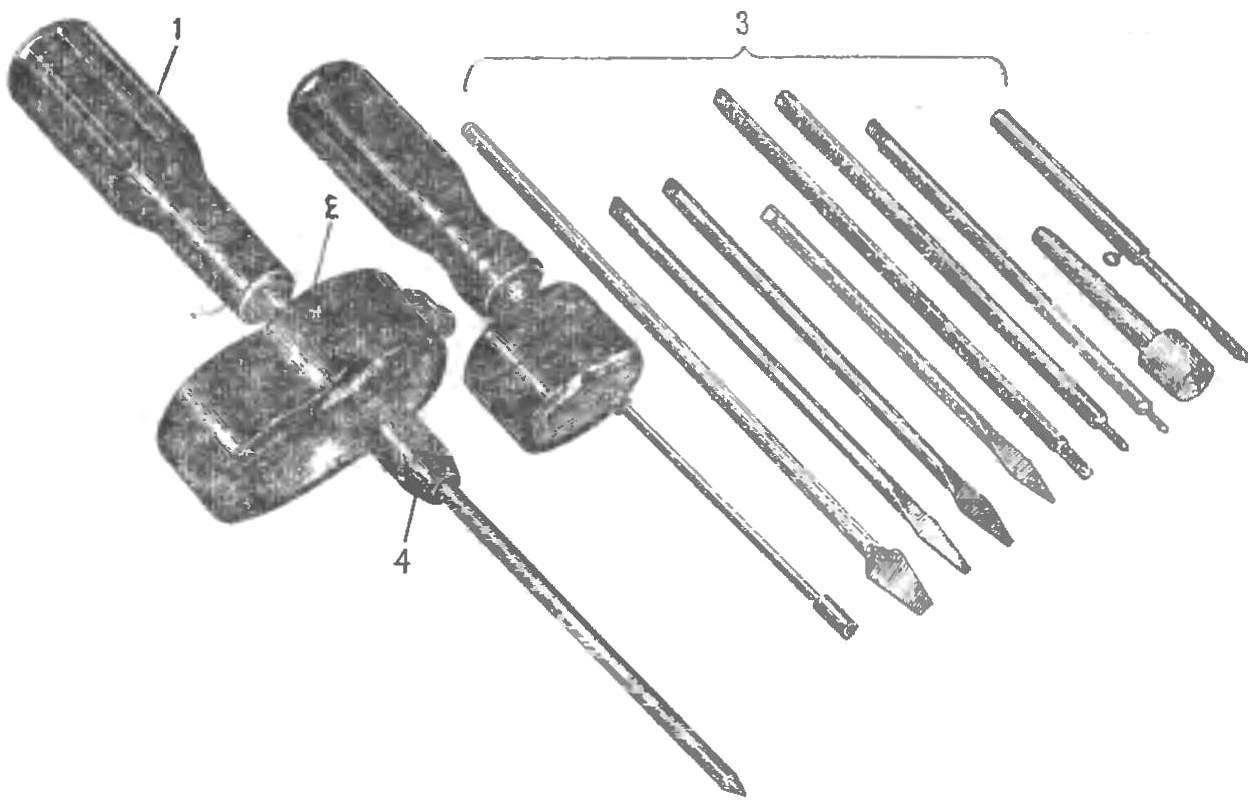 Innovators of the Moscow machine-tool plant named after Sergo Ordzhonikidze developed an unusual screwdriver, equipped with a booster with transmission ratio 1 : 6. This means that one turn of the handle of the screwdriver results in six turns of the tightening screw. Such a screwdriver can be successfully used in small-scale and serial manufacture installation and other operations on mechanical parts, fitting and mounting work with mounting screws when fixing various caps, visors.
One of the options for screwdriver, has a clamping collet, giving the opportunity to apply a variety of interchangeable nozzles: outer and inner hexagons, square key, Phillips and normal slots, the drill bits and taps. Through the nozzles with a screwdriver, you can work with fixing bolts M5—M10, use it when drilling and tapping to M6.
Fig. 2. "Fast" screwdriver:
1 — pen, 2 — accelerator, 3 — changing tool, 4 — clamping collet.
In cases when you need to create high torque in the initial or final period of work with fasteners, unscrewing, or, conversely, tightening the screws or bolts — screwdriver can be translated into the direct coupling and used as usual.
Using a screwdriver from the accelerator allows you to greatly facilitate the work of mechanics, installers, and increase productivity in 2-2,5 times.
Recommend to read
TERMINAL SQUARE
Most automatic screw machines have trehkanatnoy the self-centering, which is easy to fix the workpiece cylindrical or hexagonal shape. And if it is of square section! In this case, a...
JEEP-THE FARMER
Such a "tractor" configuration of the machine selected for purely practical reasons, dictated by life itself: the farm was necessary and a tractor, and a SUV, and I decided to combine...