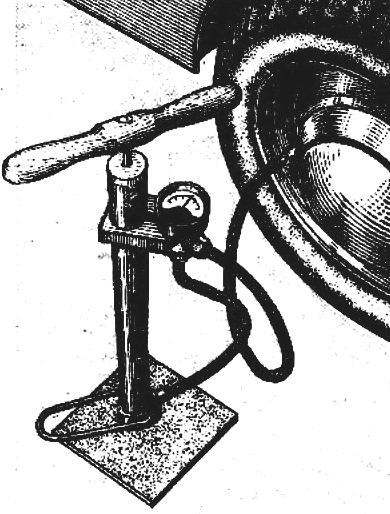 Motorists have appreciated a commercially available foot-pump to inflate tyres equipped with pressure gauge: it is easy to use and allows you to constantly monitor the pressure in the chamber. But the pump is the old type with the help of simple consoles can be equipped with a pressure gauge. This would require a metal bar, cut the hose, two connectors and of course the pressure gauge. In a bar, having a ring terminal for mounting on the pump body, there are three threaded holes, connected to each other. One of them is installed a pressure gauge, a second — fitting short hose connected to the pump outlet and the third fitting for the output hose. An improved pump is advantageously differs from its industrial counterpart with a more convenient placement of the manometer. And the top position of the hose will keep it clean in rainy weather.
Recommend to read
MORGAN AERO 8
The British car firm Morgan is one of the oldest in the world, 1909 to the present time it belongs to the Morgan family traditionally passes from father to son. The company is known for...
THE PLANE AND GLIDER
Schematic model of the airframe and the aircraft, as you know, started flying much earlier than their full-size prototypes. Paving the real aircraft's path in the sky, they are now...