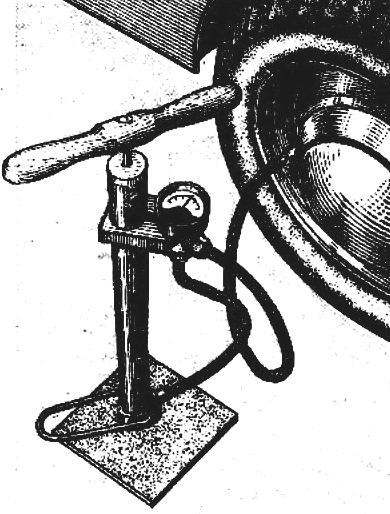 Motorists have appreciated a commercially available foot-pump to inflate tyres equipped with pressure gauge: it is easy to use and allows you to constantly monitor the pressure in the chamber. But the pump is the old type with the help of simple consoles can be equipped with a pressure gauge. This would require a metal bar, cut the hose, two connectors and of course the pressure gauge. In a bar, having a ring terminal for mounting on the pump body, there are three threaded holes, connected to each other. One of them is installed a pressure gauge, a second — fitting short hose connected to the pump outlet and the third fitting for the output hose. An improved pump is advantageously differs from its industrial counterpart with a more convenient placement of the manometer. And the top position of the hose will keep it clean in rainy weather.
Recommend to read
WITHOUT LEAKAGE
Pumping a Bicycle tire pump regular takes often more time than similar work at the motorist. The main reason is air leakage through the connecting rubber tubing to the pump and the...
STEAM VS. ICE
The frozen column gives a lot of trouble to the villagers: have to using the campfire to heat it for a long time. Offers a simple way of unfreezing columns. For this metal container with...