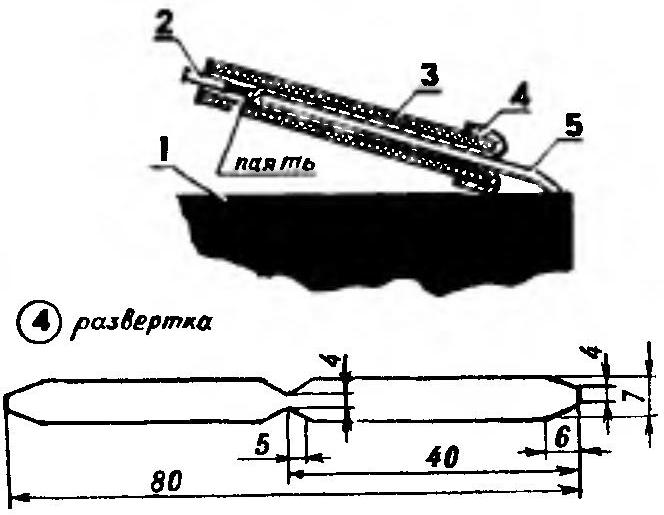 I am convinced that any device with power supply-battery flashlight will only benefit if you provide it a makeshift terminals, providing reliable electrical contact in the connection to the battery. Moreover, the time and cost it takes a bit.
Terminal for connecting devices to the battery of the flashlight:
1 — battery; 2 — wire МГШВ1-0,8; 3 — swage-insulator (cut PVC pipe); 4 — contact plate (brass strip s0,1 …0,3); 5 — pole terminal 4.5 V
The basis of such terminals, — contact plate, which is cut with scissors from brass strip thickness 0,1—0,3 mm and bent in half. To place a bend solder stranded copper wire, connected subsequently to "plus" or "minus" of the device. The terminal put the heated segment of PVC pipe of suitable diameter, slightly diluted effluent ends of the plate in different directions, and the reliability of electrical contact with the output of the batteries provided.
N. BULIK, Khmelnitsky region, Ukraine
Recommend to read
INSTEAD OF THE PCB?
Development and manufacture of printed circuit boards for a single instance of a homemade device with a higher density of mounting becomes sometimes a problem even for the experienced...
POUR TRANSISTOR
The heat of summer. The sky is cloudless. Without irrigation the garden can not be saved. In this case, it is good to use a plant that waters itself. The device is an electronic relay on...