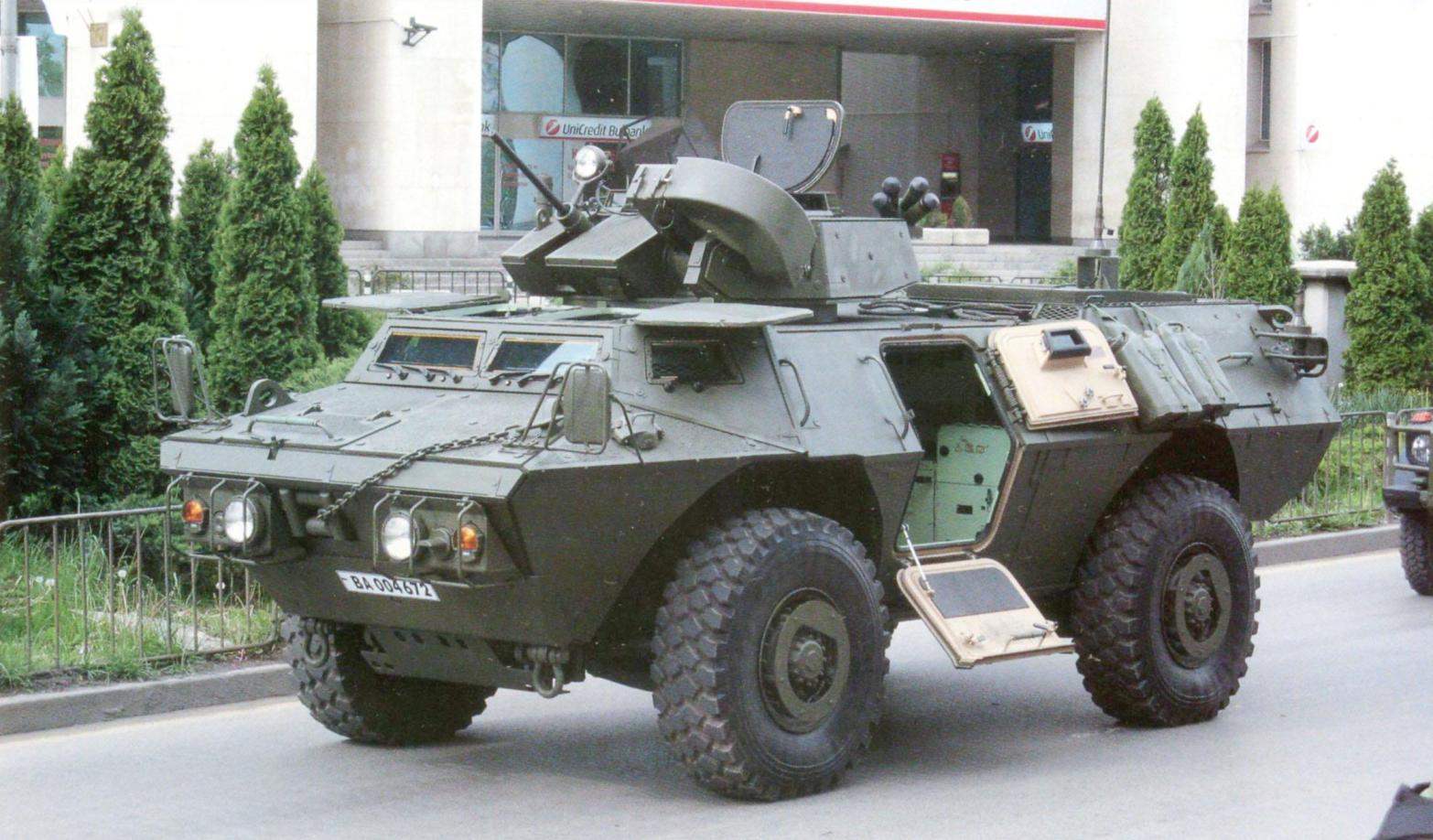 In the mid-1980s, the famous "jeep", many years in service with the us army, had to be substituted. Then the military picked the car М1025/М1026 (HMMWV – Hammer "Hummer") produced by AM General firm, recognized as a "highly mobile multipurpose wheeled vehicle". It turned out to be more functional and powerful, larger in its dimensions, but left only four-wheel drive General purpose machine.
In those years, U.S. military experts, with a change in us military doctrine demanded a statement by the army armoured vehicles that could withstand fire from small arms, splinters of shells, even the explosions min. in a word, could be a lot of vitality in the current situation on the battlefield.
The conduct of hostilities in armed conflicts and local wars tanks have shown themselves to be too massive and malomanevrenny not only in crowded urban areas, but in the conditions of foothills, vysokohromistyh terrain, along with armored vehicles, these cars were necessary, by filling the gap between heavy armor and light armored vehicles.
This time the army chose produced in the United States Corporation Textron ("Textron") armored car М1117 Guardian ("Guardian"), or ASV 150, the prototypes of which were known wheeled armored vehicle Commando ("Commando") and its subsequent version V-150.
The first series of these machines in number of 94 units were released in late March 1999, Initially they were transferred to military units in Warren, Michigan. In August 2000, a part of them was sent to the 18th Military police brigade, stationed in Germany. In the composition of the 709 battalion of the brigade they were in Kosovo, participated in the peacekeeping operations in the Balkans.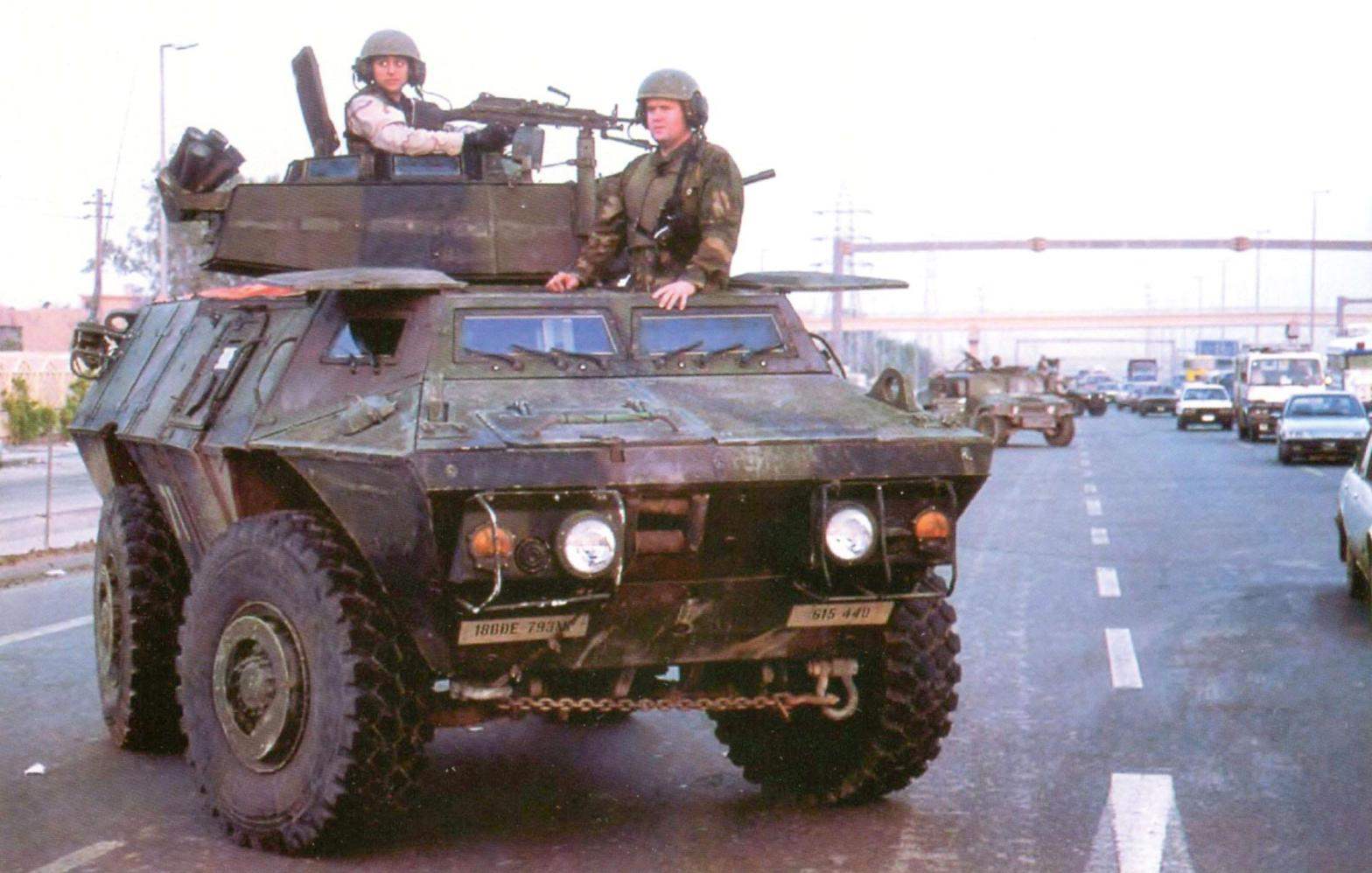 М1117 armored vehicle on patrol on the streets of Baghdad. 793 battalion 18th Military police brigade. Iraq, 2005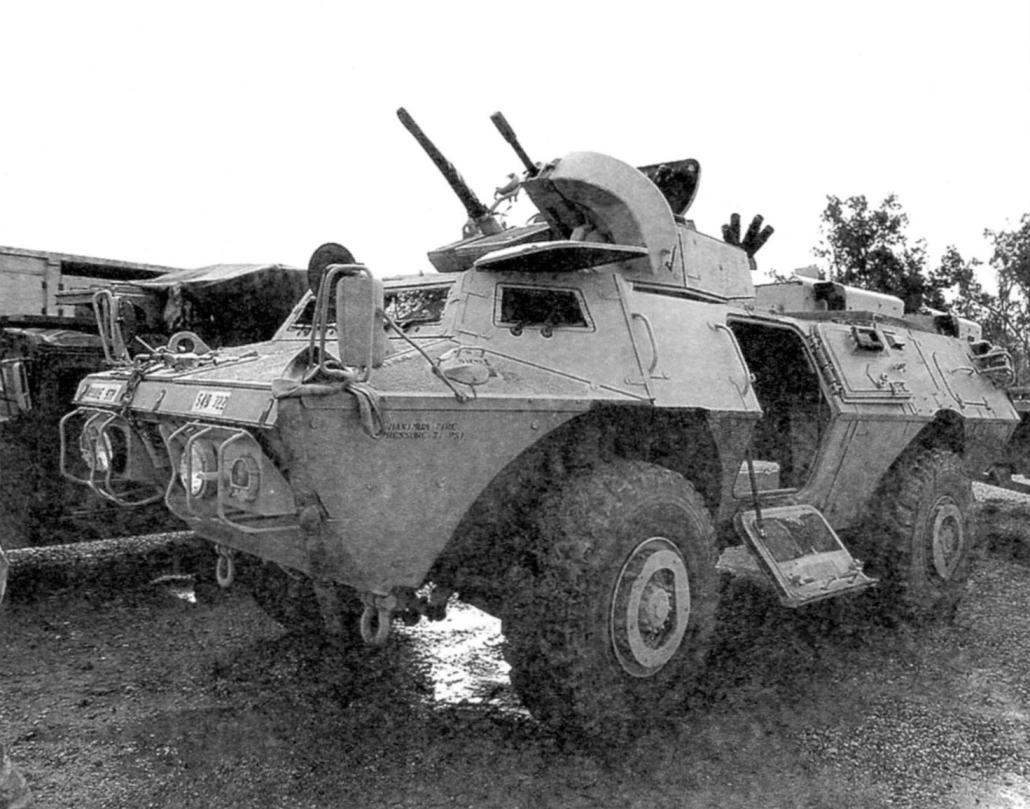 М1117 all-wheel-drive armored car with the wheel formula 4×4
Their actions here were evaluated as successful. However, the recognition in the army М1117 received later in Iraq, where armored cars arrived in the summer of 2003 with the same team. Here they were used in the American military police MP in a combat zone for patrocinadores service, support columns, and also as military observers. In Iraq, these cars began to arrive regularly and in large quantities, constantly swelling the ranks of equipment to military units.
By 2011 it appeared that the U.S. army had ordered a total of 3030 units М1117, another 414-converted into armored cars artillery observers M1200 Armored Knights ("Armored knight"). Last orders for the production of armored vehicles arrived in 2011
In addition, 370 units were transferred to Iraq, 40 – Columbia, about a dozen of Bulgaria.
М1117 armored vehicle was adopted by the US army in 1999, It was four-wheel drive armored vehicle with a mass of 13.4 t Recall that a few higher standing in the military hierarchy, combat vehicles Stryker ("Stryker") and a M2 Bradley ("Bradley") had a mass of 20 t and 25 t, respectively. Below standing HMMWV ("Hummer") had a mass of only a few tons, for example, reinforced armored M-1114 was a mass of 4.5 T. In its capabilities and purpose М1117 just in the niche between them.
Ceramic composite armor of the machine provided protection for the crew when firing 12.7-mm armor-piercing bullets, when hit in the hull fragments in 60 mm min – at break of 10 m from the vehicle, shrapnel from 155-mm shells when the explosion at a distance of more than 15 m. the Bottom withstand the improvised explosive devices with TNT equivalent of up to 5.4 kg.
The commander of the armored car took the right front seat, the driver left. Windscreens in front of them, side was armored. On the sides there were doors of entrance/exit of the crew, the exit door was also in the stern.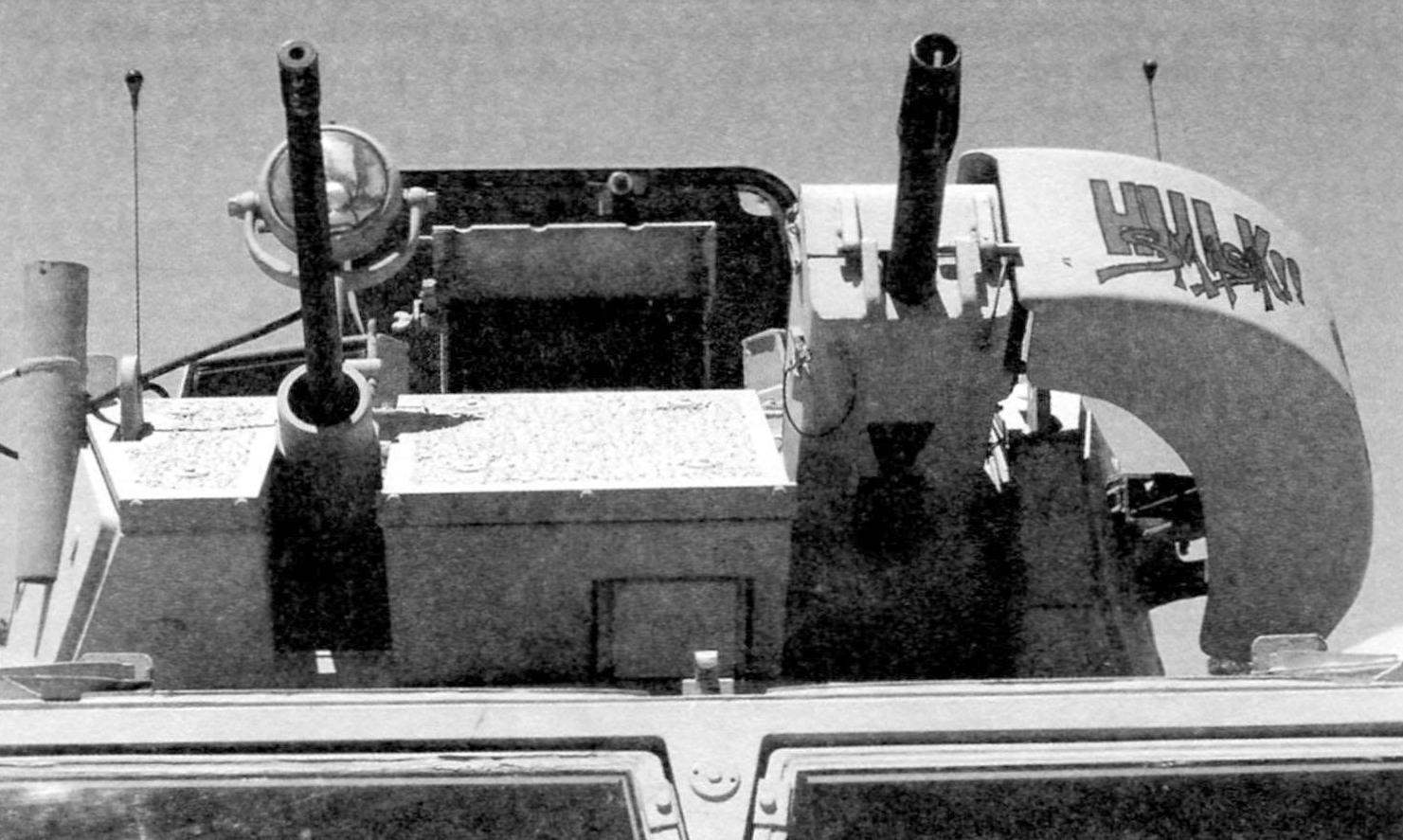 Weapons BA М1117. Left – a large-caliber 12.7 mm machine gun М2НВ, right – 40-mm grenade launcher MK 19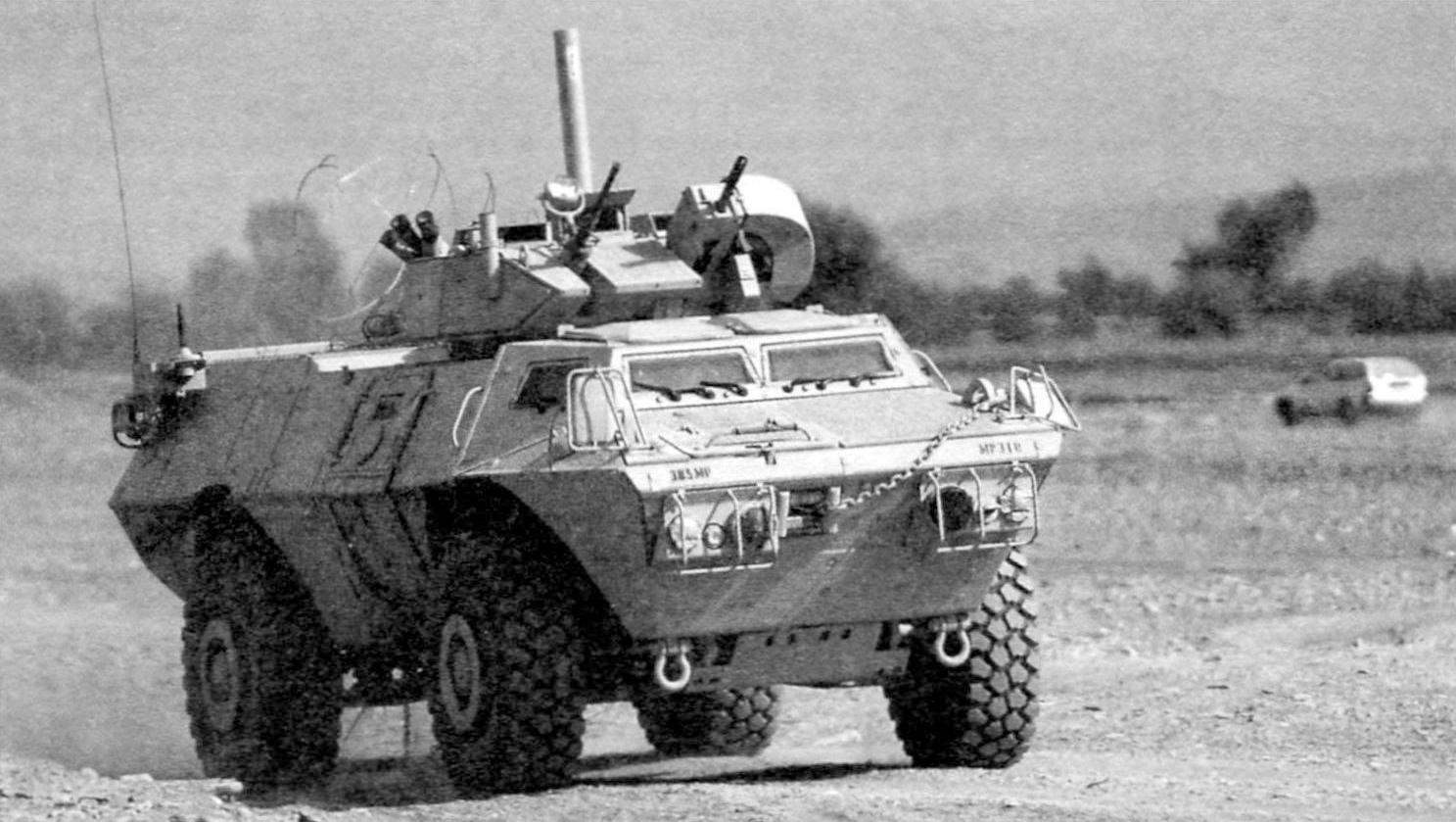 BA М1117 in the patrol patrol in the vicinity of tall afar. Iraq, August 2005.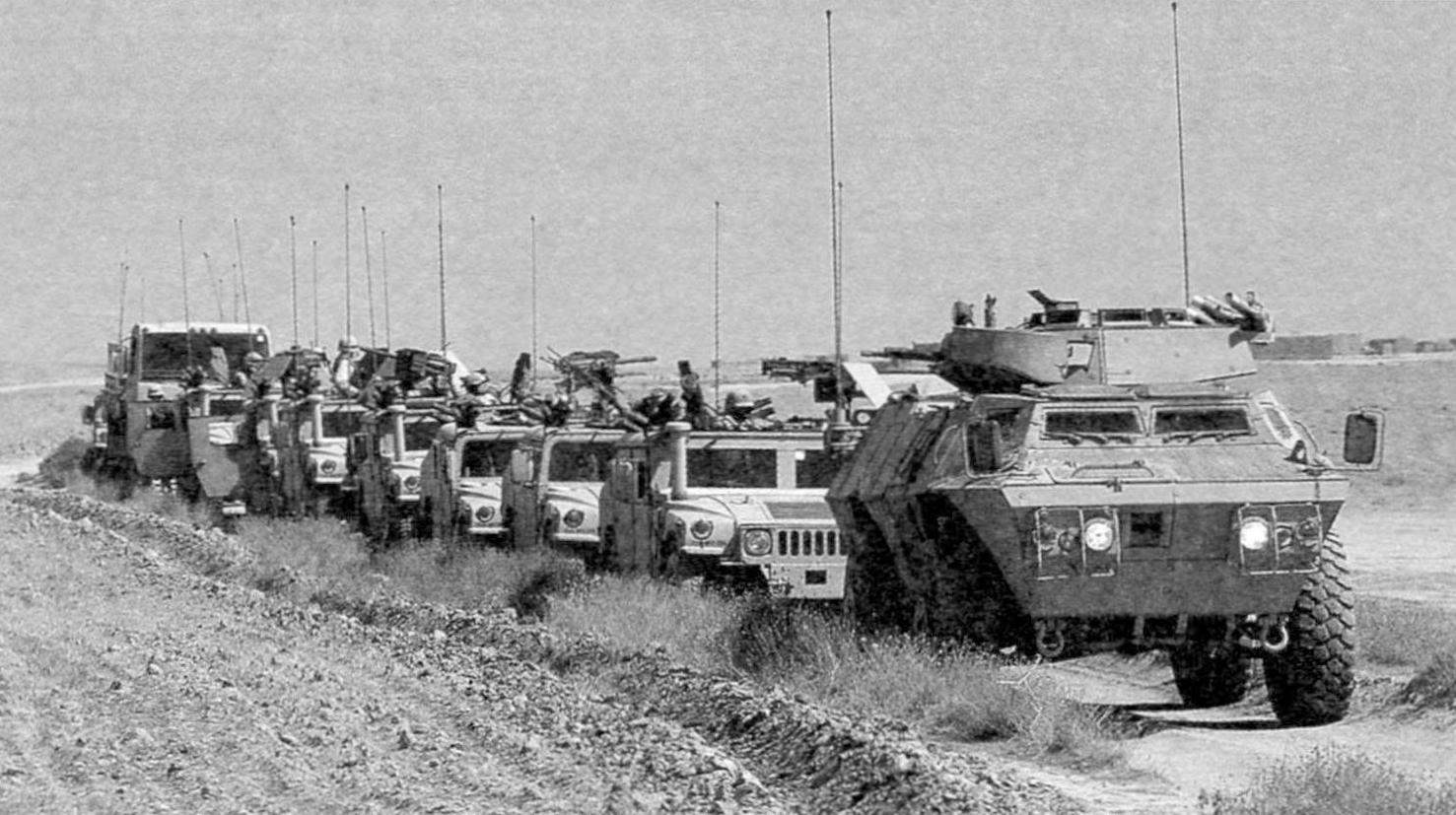 M 1117 accompanied by a convoy of armored cars "hammer". The photo shows how this machine is its dimensions
The armament was housed in a small single tower and consisted of 40-mm Mk 19 grenade launchers, large-caliber 12.7 mm machine gun М2НВ Browning ("Browning") and 5.56-mm auxiliary gun. The grenade had an effective radius of up to 1800 meters when firing at ranges of up to 6800 m. on the Back roof of the tower were blocks with four smoke grenade launchers М257.
Tower can rotate 360°, providing a circular attack with a corner elevation up to 60°. For the ability to conduct round-the-clock view of the area and aimed fire was fitted appliances day/night vision М36Е2.
On Board the armored car in the ammunition had 96 grenades and 200 rounds of machine gun М2НВ.
М1117 had the wheel formula 4×4, 6-speed automatic gearbox Allison MD3560, independent wheel suspension with coil springs, providing excellent maneuverability and handling.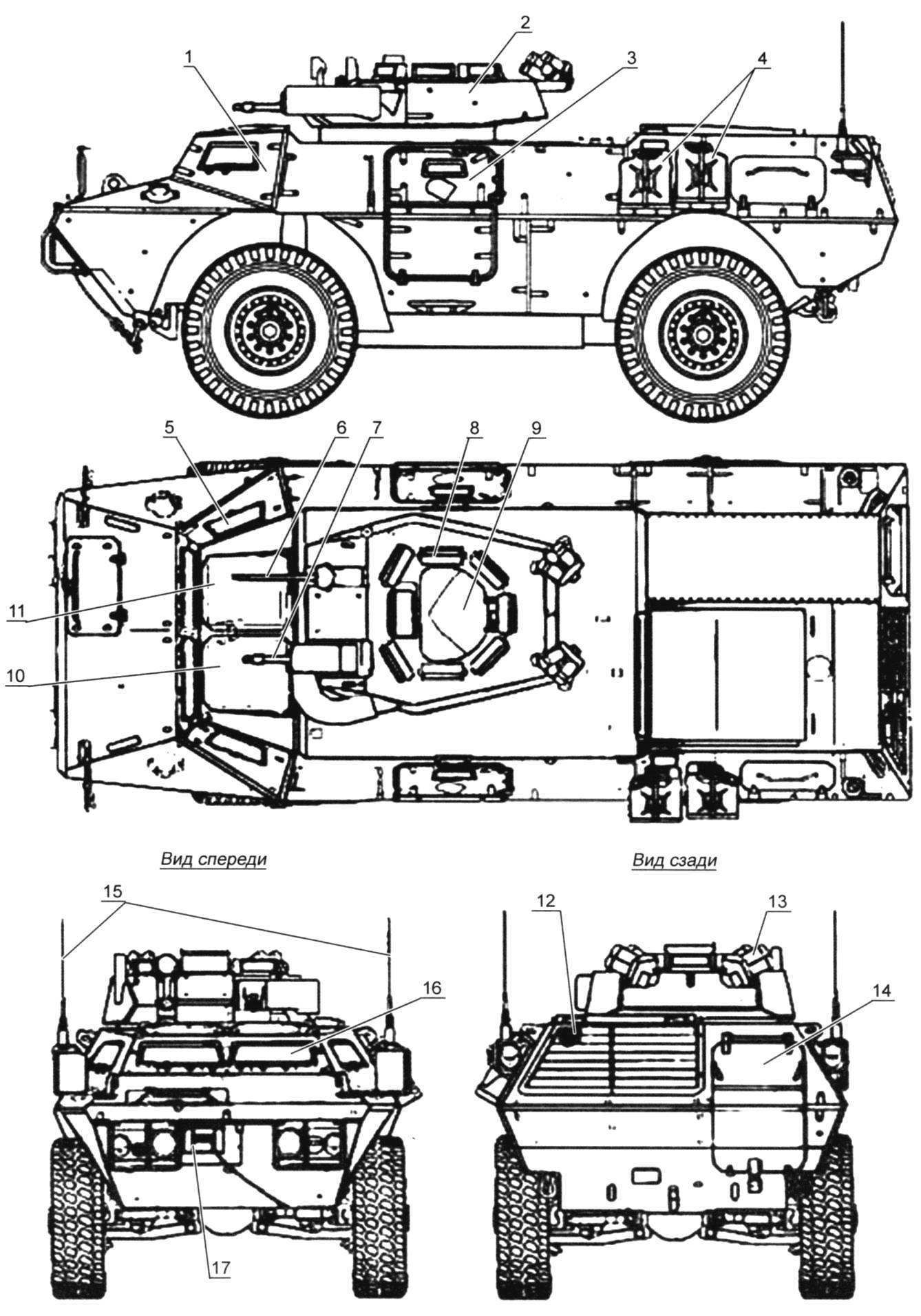 БАМ1117:
1 – side bulletproof glass of the driver; 2 – turret; 3 – side door frame; 4. spare cans; 5 – lateral armoured glass of the commander; 6 – 12.7 mm machine gun М2НВ; 7 – 40-mm grenade launcher MK 19; 8 – surveillance device; 9 – turret hatch; 10 – driver's hatch; 11 – Luc commander; 12 – outlet pipe; 13 – block smoke grenade launchers М257; 14 – stern exit door; 15 – antenna radios; 16 – windscreen armoured glass; 17 – winch
Power 6-cylinder diesel engine Cummins 6СТА8.3, the turbocharger was 260 HP Is allowed to develop the speed on the highway to 100 km/h speeds up to 60 km/h armored truck was able to tow a two-wheeled trailer М1102 М1101 or trailer with a loaded weight of up to 1900 kg and 3400 kg, respectively, as well as 3/4-ton truck М101. They could be transported by equipment, accessories, parts for use of the machines themselves as, for example, military observers or repair shops.
It was possible and evacuation of damaged vehicles type "Hummer" from the position nearest the rear.
Armored car 7 could accelerate to a speed of 40 km/h Tank capacity 190 l were allowed to pass without refueling distance of up to 700 km, thus it can overcome obstacles up to 0.5 m, and the murky depths of 1.5 meters without any preparation. Was equipped with automatic adjustment system CTIS tire pressure of each wheel. Had a filter-ventilation installation, air conditioning. For self-recovery, and to participate in the repair and recovery works and before casing is installed winch with a pulling force of about 7 T.
The interior of the armored car – view from stern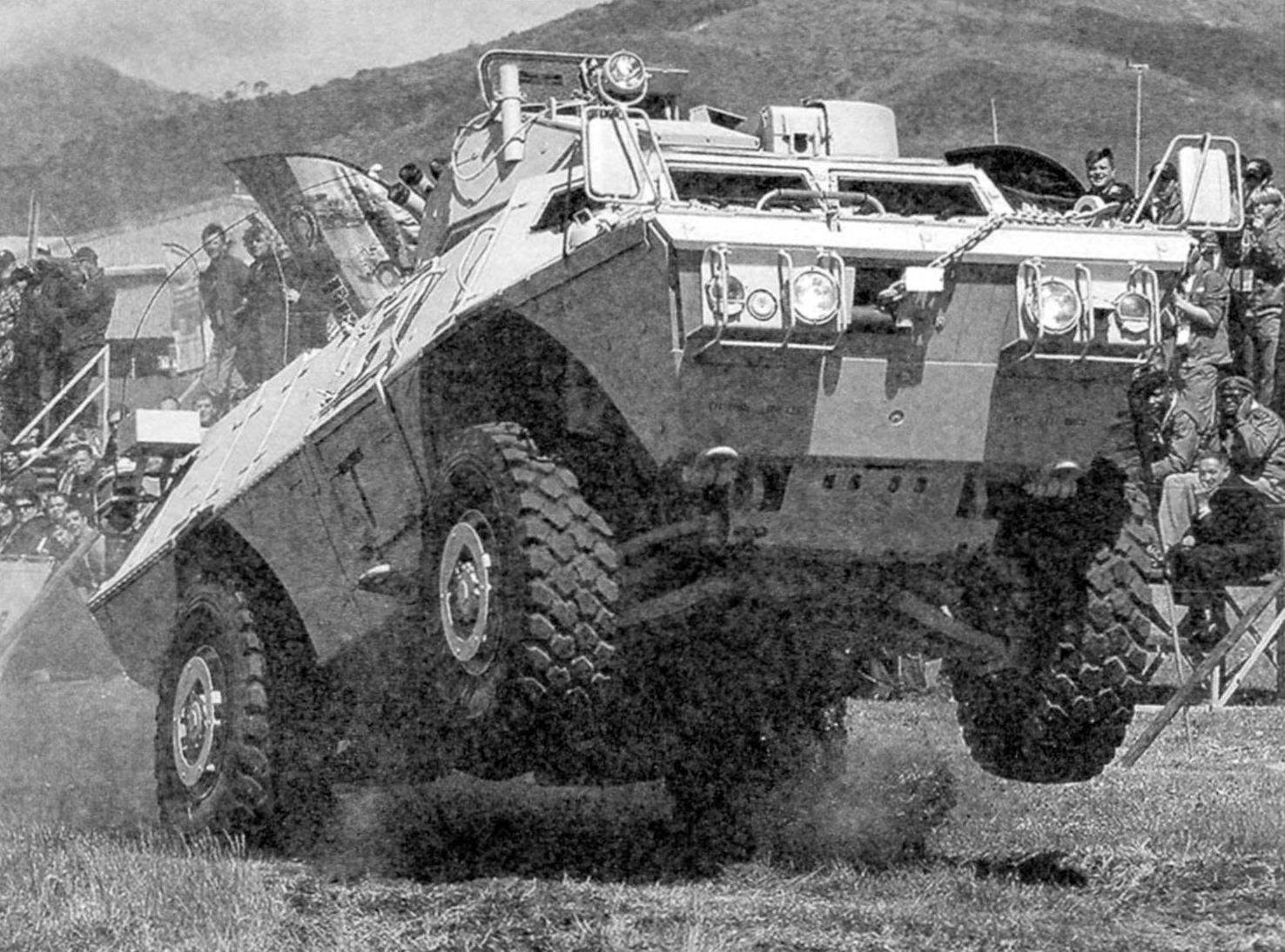 Speed up to 40 km/h the armored car takes only 7 seconds
Station AN/PSN global GPS system placed inside the machine, allows you to track the route of movement. Communication with the units was carried out two radios AN/VRC-91, an internal communication device served AN/VIC-3.
There were several modifications of armored М1117. Among them:
–
armored vehicle (crew and Marines);
–
repair and recovery vehicle;
–
machine artillery observers;
–
medical armored vehicle.
Military experts thought the big advantage of the adoption М1117 by the army units in connection with the possibility of transporting them over long distances. So, for strategic military transport aircraft Boeing C-17 Globemaster III (Boeing Globemaster III") intended for the carriage of bulky cargo on Intercontinental range with the ability to deliver them on small unprepared airfields could accommodate six vehicles. It is also quite consistent with the principles of the new military doctrine of the United States.
The PERFORMANCE characteristics of the BA М1117
Weight, kg……………………………………..13 408
Useful load, kg……………………..1600
Wheel formula…………………………….4×4
Crew…………………….3 (+ 1), landing
Length, mm……………………………………….6070
Width, mm……………………………………2560
Height, mm……………………………………..2590
Ground clearance, mm……………………………………..460
Weapons…..machine gun – 12.7 mm М2НВ, machine gun – 5.56 mm, grenade launcher – 40-mm MK 19
Ammo………………………………pomegranate – 96, ammunition 12.7 mm – 200
Engine………………………6-cylinder diesel Cummins 6СТА8.3 with 260 HP
Transmission……………automatic 6-speed
Suspension…………………………….independent with coil springs
Speed on highway, km/h…………………..130
Tank capacity, l…………………………………190
Reserve, km…………………………………..700
Overcoming obstacles in m:
–
Ford……………………………………………….1,5
–
the height of the wall………………………………..0,6
Turning circle, m……………………….16,7
V. BORZENKO
Recommend to read
TURTLE, LATE FOR WAR
1942 the British General staff attended to the question: "How should a heavy "assault tank", able without harm to themselves to act at the head of the offensive orders troops?" At that...
ROCKET AND GUN "TUNGUSKA"
By the end of 1960-ies has increased its attention to the creation of highly mobile anti-aircraft army air defense short range, able to work as part of the advanced forces that could be...