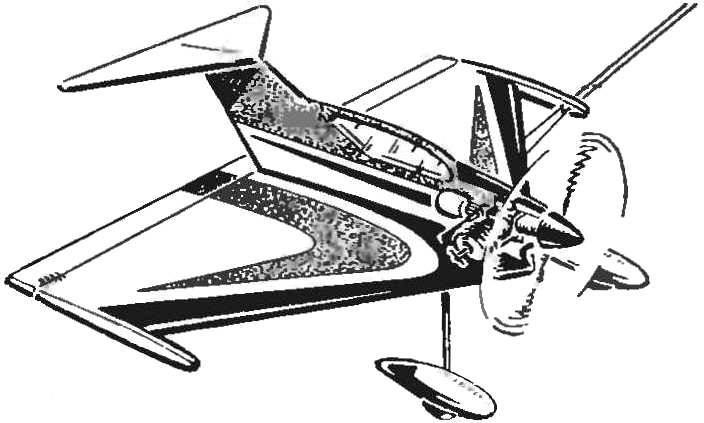 Durability, simplicity, and good handling are the main requirements for cordovil models for beginners. Model, which offers this publication as a study, fully meets these requirements. The styling of the interceptor will provide additional incentive for any lad in the manufacture of the model.
Offer a "beginners" is a compact aircraft (the wingspan is 600 mm) of the type "flying wing". The truth is, the model is assembled and the horizontal stabilizer, which formally allows to carry the airplane to the classical scheme.
So, let's get to work. To start drawing the model should be transferred to "paper" or sheet of paper — primarily this applies to planned projection of wings and the lateral projection of the fuselage, and then drawing this pinned to a sheet of plywood. Thus, we will receive and loft, and a slipway for assembling the airplane.
In accordance with plasam cut blanks for the wing rail cross-section mm 6×6 to 3×6 mm front and rear edges, the rail section 4×6 mm for the spar, a plywood plate of 3 mm thickness for ribs and tips of the end ribs. Longitudinal pre-need in accordance with Plaza to bend, which he steams and fixed with nails on the slipway to dry wood.