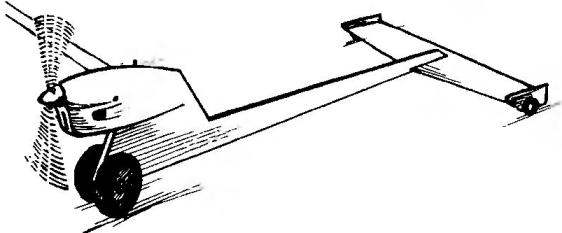 Read in the "Modeller-designer" interesting article on the new generation car with aerobrigada, the boys from the circle, which I direct, has decided to develop the proposed innovation. Its essence was the transfer stabilizatory plate from the zone of slipstream in close proximity to the track surface of the track, where the model moves at a high speed must manifest the aerodynamic ground effect. Although models that are built in our group, has repeatedly won prizes in on competitions and seemed to be brought to constructive and technological excellence, yet wanted to try something new.
The ideas in the article about screen effect seemed to be quite common.
However, the article cited only a theory of a new direction, and as a constructive aid to modelers was offered only a General diagram of the machine, without detailed drawing. So most of the layout and key questions the members had to decide for yourself.
May presents us the development will not meet the usual style of designing models. But even if it is controversial, in any case, interesting. After all, we offer creatively altering schema or creating original, you can improve ekranoplane aeromobili. But the fact that they are more promising than the now classic "airplane" model, we were convinced after the test cycle. And that it is advisable to engage in further development of the new scheme.