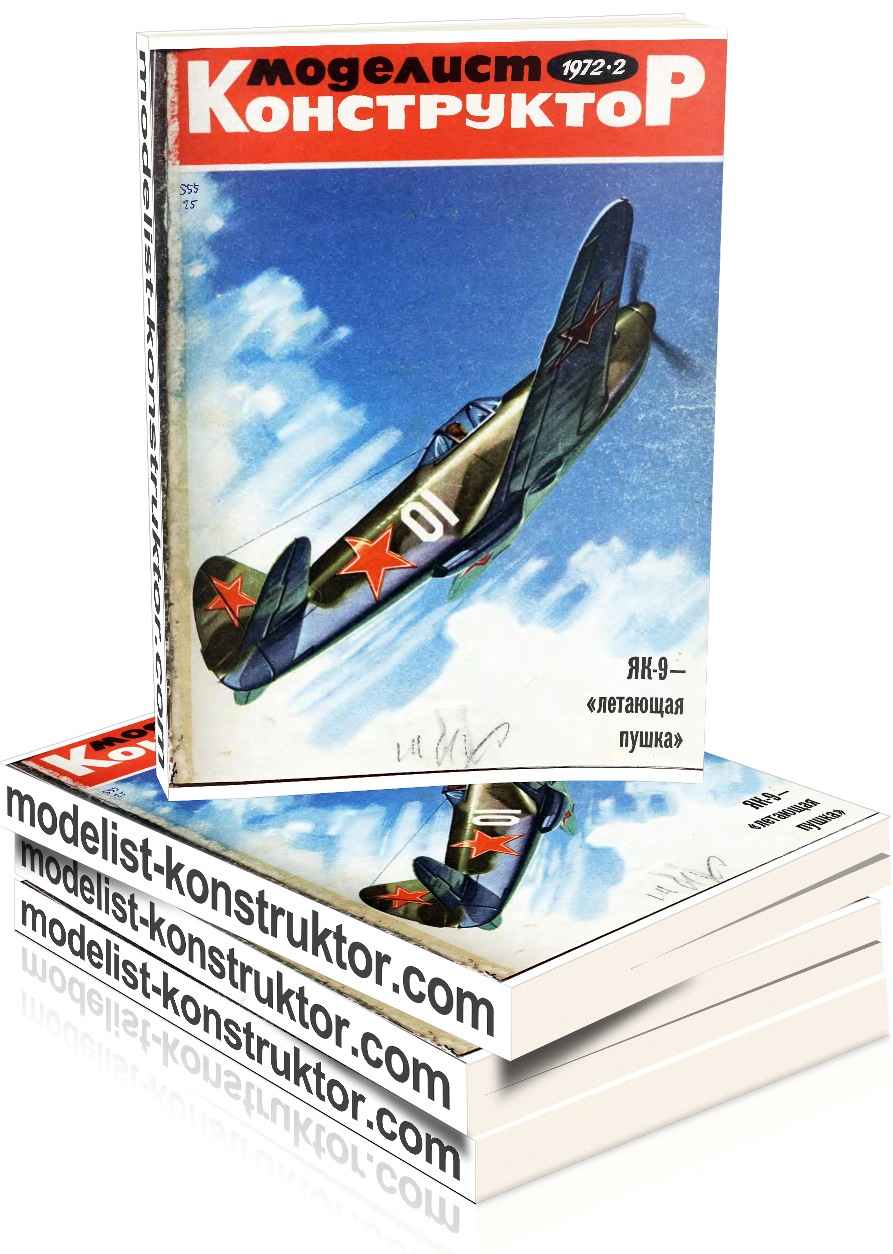 CONTENTS:
USSR – 50: the Youth Republic (5);
G. Hurin. Boys dream of the sky… (2);
V. Smirnov. Kazakhstan "crystal" (4).
Young technicians at ENEA: (6).
The study of physics today: V. Shilov. The amplifier changes the profession (8);
The first service of selenium (8).
On land, sky and sea, Invincible and legendary (10);
G. Malinowski. "Flying gun" (10);
L. Zhukov. Military profession YAK-9 (14);
A. Beskurnikov. In the attack – "winged tanks" (15).
Create, invent, try!: A. Sinelnikov. Uralets – eurovestech (17);
I. Usenaliev. Reverse gear for snowmobiles (18);
A. Stromilov. Vyatka on the ski (20).
Laboratory technologist: A. Andrew. Miracle-casein (21).
From the eagle tribe: Yu. Khromov. Flaps – on take off! (22).
The ABCs of electricity: M. Galiguzova, V. Trufanov. The magical world of "amber" (24).
Make a well in the school: A. Nikolaenko. Barriers simple and complex (26).
Radio control models through a complex route (28);
Servo (29).
Sea collection: G. Smirnov. "Majestic" (33).
Advice to the modeller: (34).
The handyman: (36).
Anthology of the unusual: Kostenko. Icarus the XX century (38).
At different latitudes: (42).
Enroute automodelisme: "Citroen DS-19" (44).
Our reference: (44).
Small-scale mechanization: V. Chichkov, V. Davidenko. Experience teaches (47).
COVER: 1 page – One of the best fighters of the second world war the YAK-9. Fig. E. Molchanova; 2-I page – young technicians in Kazakhstan. Photo by J. Caldina and V. Brovko; 3-I p. – a Homemade tractors, designed by the young morozumi Krasnodar region. Photo of Yuri spondylitis, Fig. V. Ivanov; 4-I p. – Muscularity. Fig. E. Molchanov.
TAB: 1. Paratroopers attack. Fig. E. Molchanova; 2. snowmobiles. Fig. R. Strelnikov; 3rd page – RC model. Fig. R. Strelnikov, photo Yulia Egorova; 4. – "Sea collection" "MK". Fig. V. Ivanov.
Modelist-KONSTRUKTOR 1972-02 PDF (download)