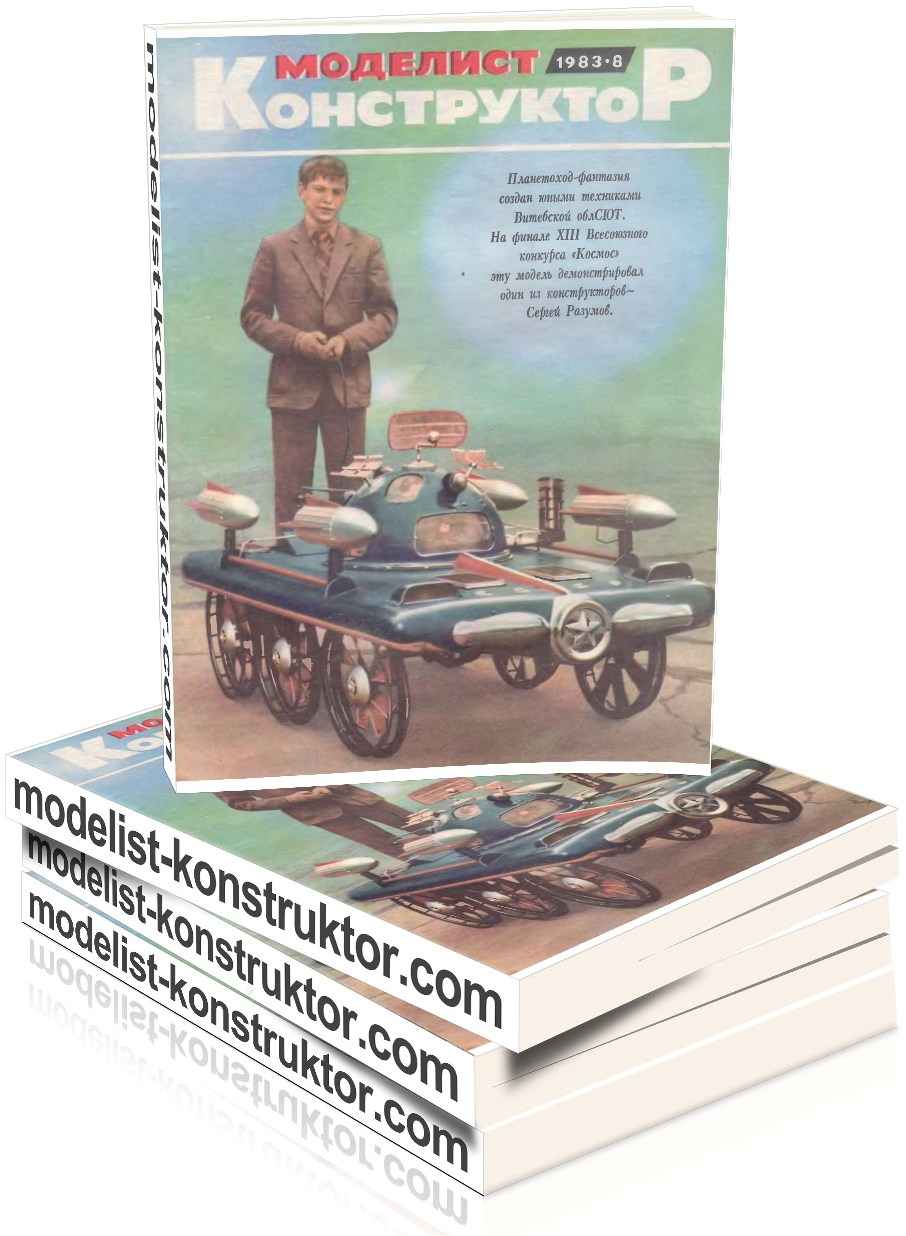 CONTENTS:
Their finest hour (1).
Pages of history: V. Andreev. The first starts (2).
21 August – day of Air fleet of the USSR: N. Yakubovich. At the crossroads of epochs (3).
Models in the world: V. Artamonov. Sailing F5-M (8);
D. Shepilov. In the name of reliability (11);
V. Holguin. In the sky, "zero-ninth"! (14).
Sea collection "M-K": G. Smirnov, V. Smirnov. Cradle armored fleet (15).
Club house masters: City of Berezin. The lamp in the variations (17);
V. Strashnov. Area student (19);
N. Erokhin, A. Talanov. To make a copy of the slides (21);
V. Planin. Photo lab in… wardrobe (22).
Tips from around the world (23).
Small-scale mechanization: N. Obreja. Chopper motor (24);
I. Evdokimenko, N. Serdyuk. Lift for bees (25);
V. Leshchinsky. Collapsible rake (25).
Cybernetics, automation, electronics: A. Kozyavin. Play musical palette (26).
Devices assistants: V. Konovalov. The power of the batteries (29).
The technique of radio sport: D. Bakhmatyuk. "Fox"-"the lighthouse" on 144 MHz (30).
Bookshelf: (32).
COVER: 1 page – lunar Rover-fantasy. Photo by A. Raguzina; 2. – "Space-83". Photo A. Artemiev; 3rd page – photo Panorama of the "M-K" letters from readers; 4. the Aircraft DB – A.
TAB: 1 p. – Morin collection "M-K". Fig. V. Baryshev; 2-3-p. I – XIII all-Union competition "Space". Photo by A. Kostin; 4-I p. – Club house masters. Installation Of Zykunova.
Modelist-KONSTRUKTOR 1983-08 PDF (download)