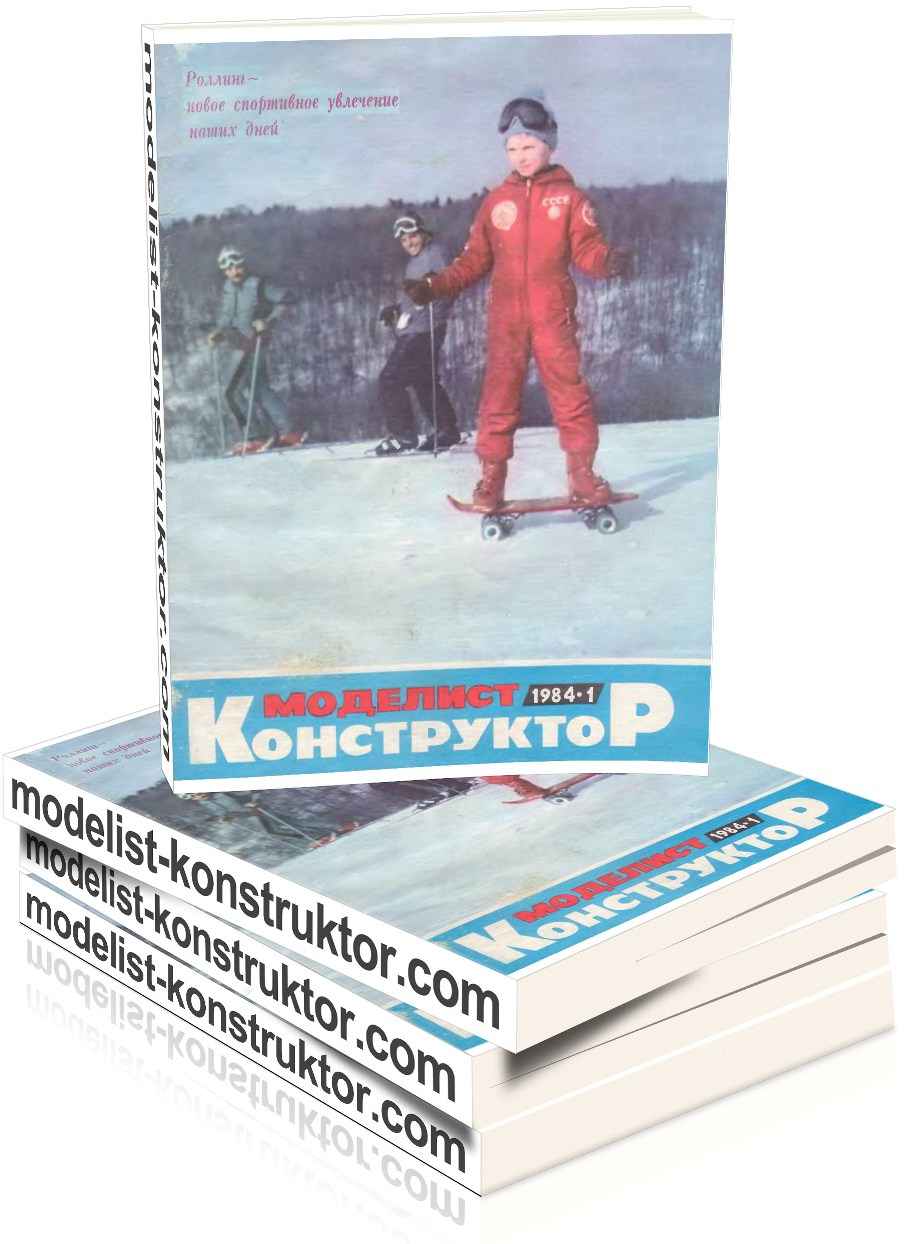 CONTENTS:
Organizer of technical creativity: I. Evstratov. Shift prepares CUT (1).
Designer – dossier: I. Nikolaev. Snowmobile – the coming decade (2).
Public KB "M-K": I. Usenaliev. Obedient screw (4).
Small-scale mechanization: Vladimir Arkhipov. "Kaluzhanin": microtracker-universal (7).
Ideas competition: S. Zhytomyr. The machine that walks (12).
Abilites "M-K": V. Kondratev. In search of optimum (13).
Technique five: V. Kostychev. In the fishery "Climber" (17).
On earth, in the heavens and on the sea N.The campaign. The best snowmobile 20's (22).
Models in the world: D. Alexeev. Winged trainer (25).
Advice to the modeller: (29).
Sea collection "M-K": G. Smirnov, V. Smirnov. Armor, towers and battering rams (31).
Club house masters: City of Berezin. "Dear wardrobe…" (33);
S. Kolyvanov. And chair, and a bed, and a sofa (35);
M. Feigin. The window… without a window (37);
L. Miskin. Macro ":" (38);
E. Dolgovesov. Flash is batten (38).
Tips from around the world (39).
Electronics for beginners: Yuri Pakhomov. How to store cheese (40).
Hams tell, advise, offer: A. Kozyavin. Color dose (42);
S. Feldman. Time specifies the distance (44).
Radiocronaca service "M-K": (41).
Sports: (47).
COVER: 1 page – rolling a new sport. Photo by Yury Zotov; 2-I page – Young Pets Cute "Motorist". Installation Simakov M.; 3. – USSR Team championship in the sport aircraft modeling. Photo V. Tikhomirova; 4-I p. – a young Design engineering of the Russian Federation. Photo By Yury Stepanov.
TAB: 1st page – Abilites "M-K". Fig. M. Petrovsky; 2. Modern seiner – trawler "Climber". Installation B. Mikhailova; 3. – Sea collection "M-K". Fig. V. Baryshev; 4-I p. – Club house masters. The mirrors in the interior of the apartment. Fig. B. Kaplunenko.
Modelist-KONSTRUKTOR 1984-01 PDF (download)