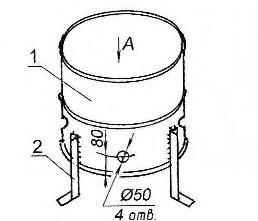 On a country or a plot over time, accumulate debris that owners tend to burn in the fire, that is unsafe in the fire relation. Much better for these purposes to have a special stove, make that very easy.
In a conventional 200-liter barrel available method (welding, drill, chisel) have several ash-pit hole with a diameter of about 50 mm at the bottom and two pairs of the same inner side a little higher from the bottom. Even to the bottom of the shell, attach (weld, priklopiti, tighten the bolts) three or four legs, made of, for example, from the corner of 35×35. The length of the angle should be such that you have at the bottom of the legs to bend the legs, and above — to do at least 150 mm overlap of the legs on the sides of the barrel, and the distance between the earth and the bottom would be about 200 mm.
Incinerator garden waste:
1 — furnace (barrel V-100… 200 l);
2 — leg (steel area 35×35, 3 or 4 pieces)
Recommend to read
AND NAIL — TOOL
Developed a lot of tools for punching large diameter holes in sheets of plywood; many of them are rather complicated or cumbersome. I need only a wooden plank to two nails. Hammer them...
THE INCREMENT OF THE BALCONY — FROM THE AIR
For apartments small area of the room is a significant addition to its "squaring", but not all season and all weather. To ensure these conditions, the balcony must be protected from rain...