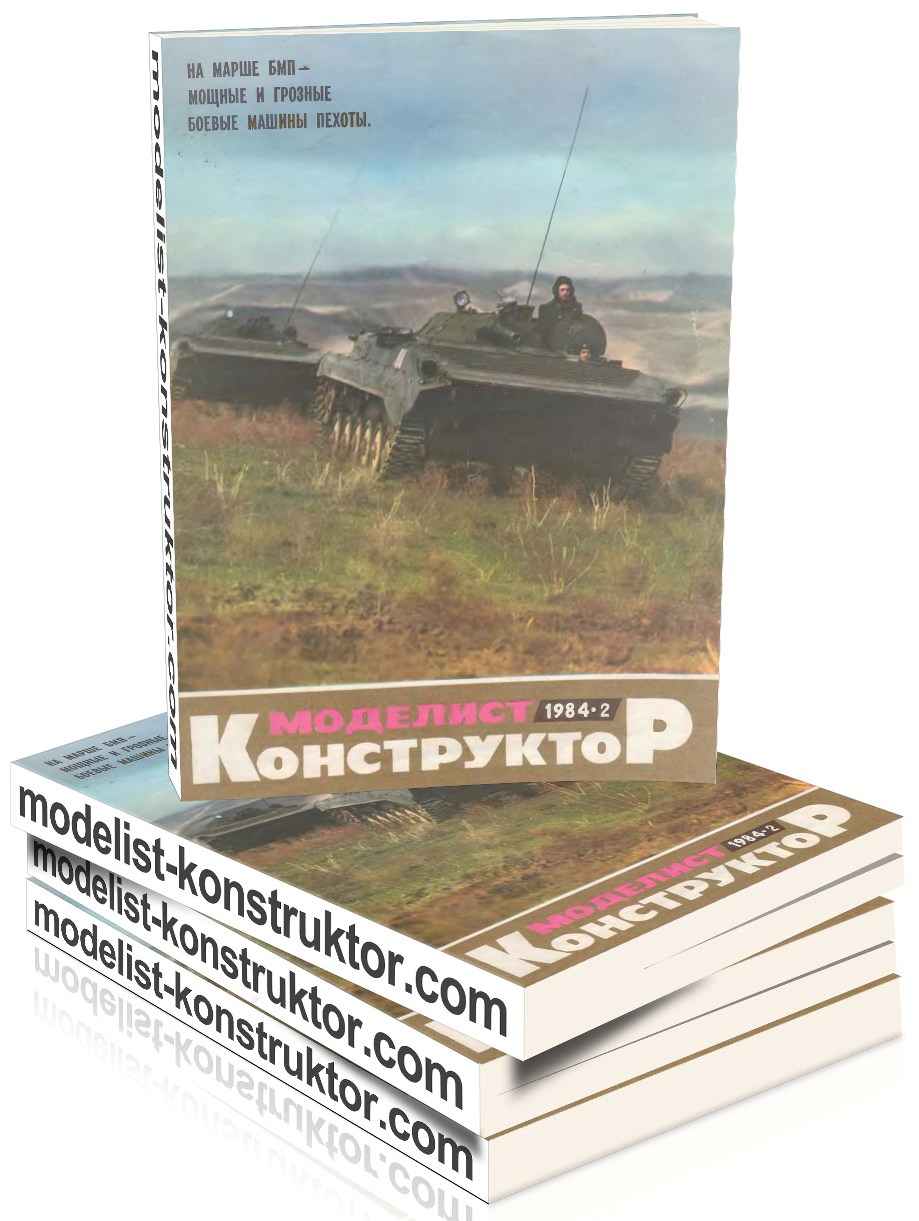 CONTENTS: V. Moseikin. To educate patriots (1).
On guard of the Motherland: P. Gorokhov, V. Korablin. BMP – sword and shield infantry (4).
Models in the world: N. Nikolaev. The price is a fraction of a second (7);
K. Golovin. In the race – mnogoyarusnyi (10);
V. Holguin. In search of a profile (12).
Sports: Yu. A. Bekhterev. Cup IOM: problems of Cordoba automodelisme (13).
Sea collection "M-K": G. Smirnov, V. Smirnov. "Captain Pratt" and "Admiral Grau" (15).
Club house masters: N. Boyko. Conceived and made the sofa (17);
A. Christmas. Cellar on the balcony (18);
I. Sulimov. Clock from alarm clock (20);
A. Alexandrov. The ladder at the summer house (20);
A. Timchenko. Safe ladder (21);
L. Tarasenko. "Glory," with additions (21).
Tips from around the world (22).
Small-scale mechanization: E. Makarova. Infinite water (24).
Devices-assistants: M. Panin. Watch the ice! (26).
Hams tell, advise, offer: V. Rinsky. And transistors, and the microchip (28).
Electronic kaleidoscope: (30).
COVER: 1 page – IFV Soviet infantry fighting vehicle. Photo V. Howler; 2nd page – applied Military and technical sports. Installation G. Karpovich; 3. the world championship on rocket modeling. Photo by V. Olga; 4. International competition for the Cup IOM (Hungary). Photo By J. Gerbova.
TAB: 1. – Sea collection "M-K". The Frigate "Admiral Lazarev". Monitors the 60-ies of the XIX century. Fig. V. Baryshev; 2-3 pages – the way they were. The exposition of vintage cars in the Czechoslovakian Museum of the history of technology (Prague). Photo by J. carpenter; 4th page – Club house masters. Fig. G. Zaslavskaya.
Modelist-KONSTRUKTOR 1984-02 PDF (download)