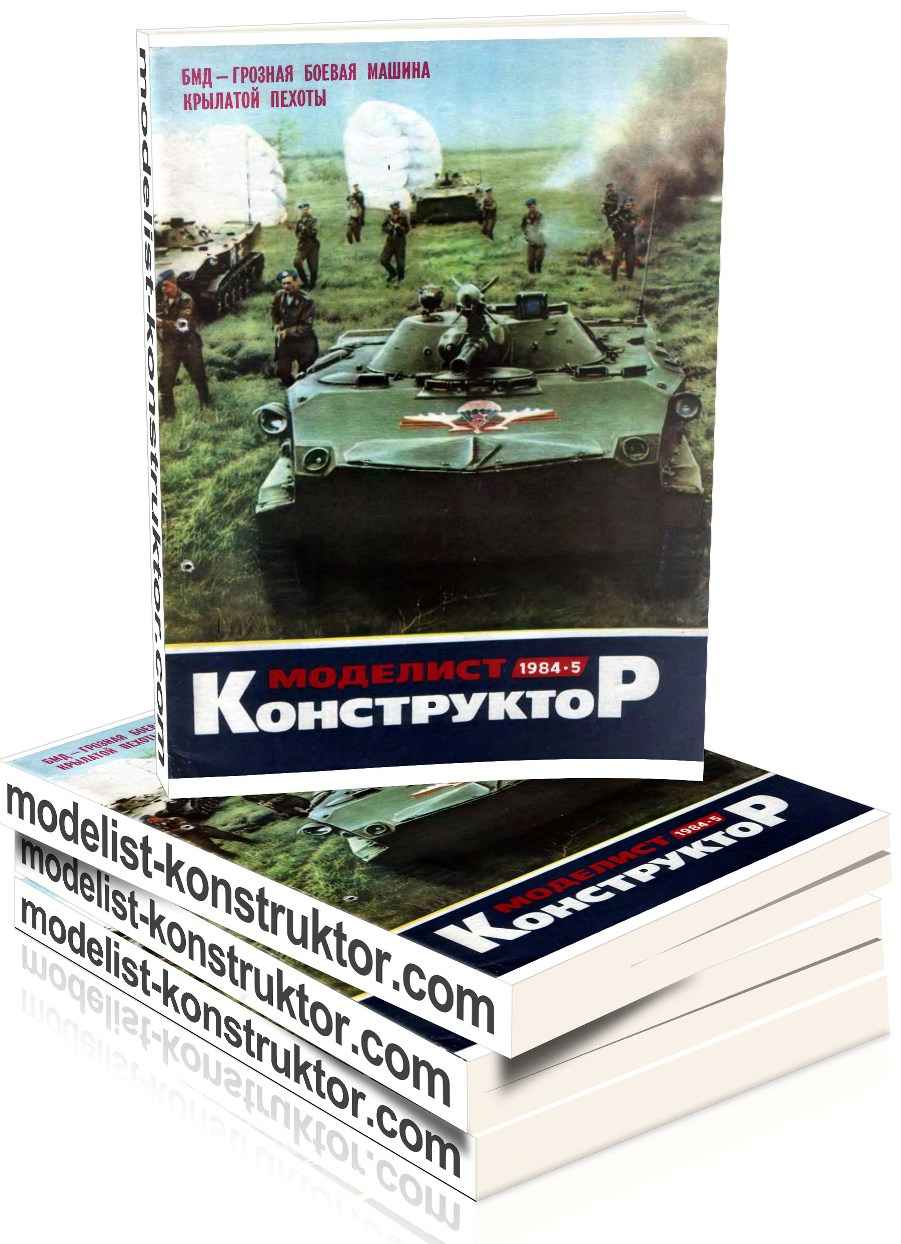 CONTENTS:
Yuri Stolyarov. Creativity and technical school (1).
May 9 – Victory Day: A. Winds. Contribution To Victory (5).
On guard of the homeland: A. Aleshin, V. Sergeev. From the sky – the battle (7).
Public KB "M-K": Kruglikov. Championship cards (10);
Yu Chernorotov. "Harp" in the Arctic circle (13);
A. Timchenko. Simplicity plus reliability (14).
In memory, forever: A. Pavlov. "Count mobilized the revolution…" (17).
Models in the world: Timoshechkin. A masterpiece of carpentry (21);
I. Kostenko. The Technique Of "Experiment-83" (24).
Model Champions: V. Popov. Racing class E2 (26);
The best in Europe (27).
Advice to the modeller: (29).
Sea collection "M-K": G. Smirnov, V. Smirnov. Whether to live monitors in the ocean? (31).
Firm "I": A. Shepelev. New outfit of the apartment (33);
A color for every taste (36).
Home workshop: City of Berezin. Again the dowel (38).
Tips from around the world (39).
Small-scale mechanization: (40).
Hams tell, advise, offer: V. Einbinder. Disturber (42).
Radiocronaca service "M-K": (43).
Meet the pioneer summer: D. can be visited. Magnetic quiz (45).
Electronics for beginners: A. Valentine. Three devices in one (46).
COVER: 1 page – BMD-1: airborne combat vehicle. Photo V. Revoke; 2-I page – To the 60-th anniversary of Komsomol assignment of a name of V. I. Lenin. Design A. Queen; 3rd page – Union competition car with a propeller. Photo by A. Shopin; 4. Competition of self-made cars in Kyiv. Photo By A. Timchenko.
TAB: 1. – Folding micromatic designed in the "Club eternal search" (Kharkov). Photo by A. Kostin; 2. – the Screw steamer "Lena." Fig. A. Pavlova; 3. – Sea collection "M-K". Monitors of the late XIX – early XX century. Fig. V. Baryshev; 4-I p. – Club house masters. Design B. Kaplunenko.
Modelist-KONSTRUKTOR 1984-05 PDF (download)