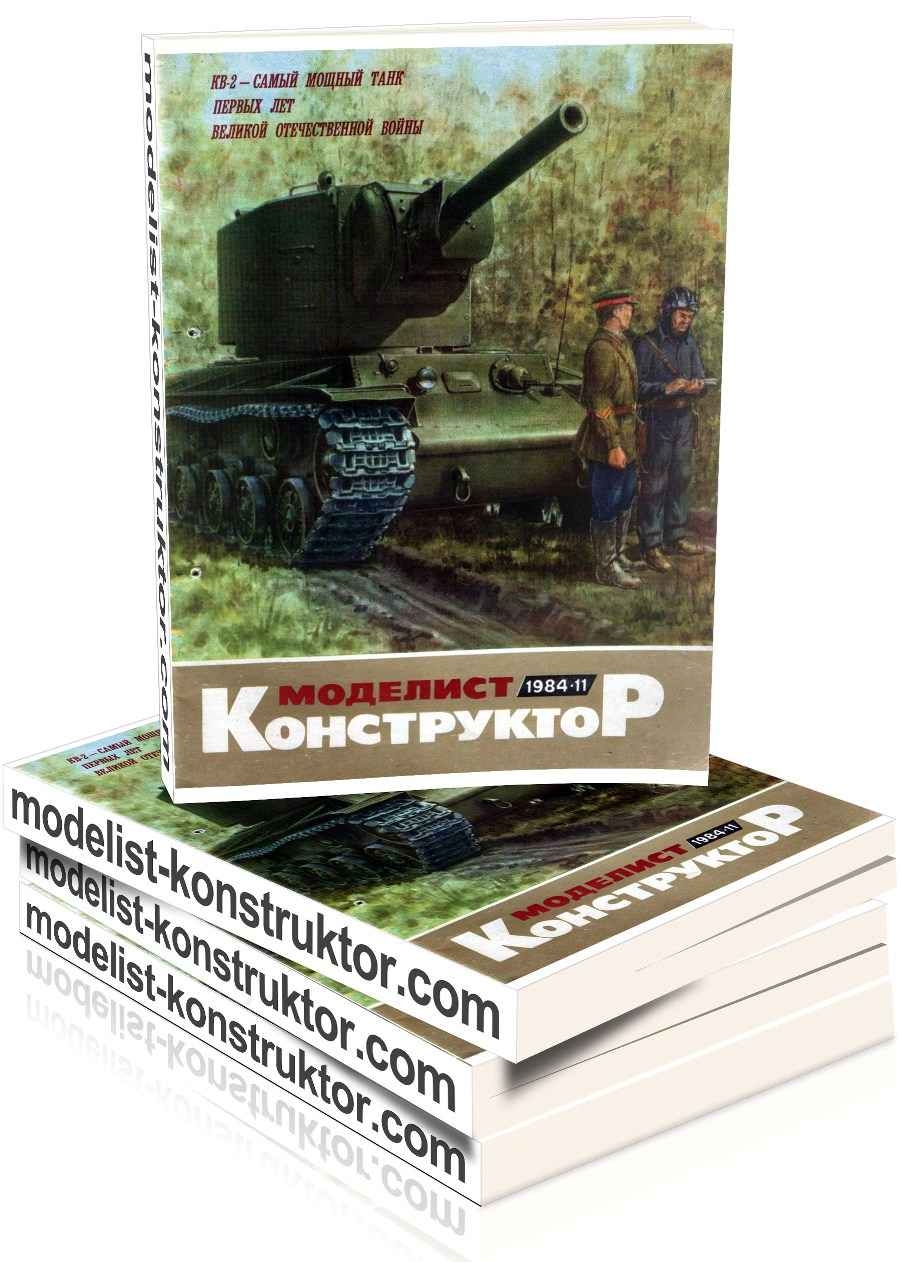 CONTENTS:
Organizer of technical creativity: R. Matviichuk, A. Timchenko. Friendly College with the plant (1).
Public KB "M-K": D. Narbut. Transport health (3);
Yu Medovikov. Recumbent "MADI" (5).
Small-scale mechanization: Kruglikov. Pioneer walk-behind (7).
To celebrate the 40th anniversary of the Victory: A. Beskurnikov. One of the KV series (9).
Pages of history: Lettered 4001, government (12).
Abilites "M-K": V. Egorov. "For the military purposes, but in the future…" (17).
Models in the world: A. Sirotin, A. Kulakovsky. Most sports (20);
K. Furse. On track – "ten" (22);
G. Leont'ev. The speed and stability (24).
Advice to the modeller: V. Karpushev. Shunting signalling (27).
Sea collection "M-K": G. Smirnov, V. Smirnov. Scandinavian armadillos (31).
Furniture with his own hands, And a table and chair (33);
A. Comb. The "machine" of the slider (33);
Vitaly Abramov. Bed for growth (34);
V. Orlov. If sold out (35).
Home workshop: K. Skvortsov. Its instrumental (36);
V. Shishlo. Collapsible bench (37).
Myself electrician: J. Rosenberg. How to extend the life of the bulb? (38);
B. Dolgovesov. The diode in the base (33).
Tips from around the world (39).
Christmas miracles: Yuri Shevchenko. "Falling snow" (40).
Radio control models: Vladimir Evseev. Command figures (41).
Radiocronaca service "M-K": (43).
Electronics for beginners: E. Yuriev. Invisible rider (45).
Sports: (47).
COVER; 1st page – Heavy tank KV-2. Fig. M. Petrovsky; 2. In Novocherkassk Electromechanical College. Photo by A. Timchenko; 3rd page – At different latitudes; 4. Agricultural technology on the television show "you can". Photo By A. Artemyev.
TAB: 1st page – Lettered government train No. 4001. Photo by L. Rogozin; 2-I page – Abilites "M-K". Airplane "Farman IV". Fig. M. Petrovsky; 3. – Sea collection "M-K". Fig. V. Baryshev; 4-I p. – Club house masters. Fig. B. Kaplunenko.
Modelist-KONSTRUKTOR 1984-11 PDF (download)